The Guru
(2002)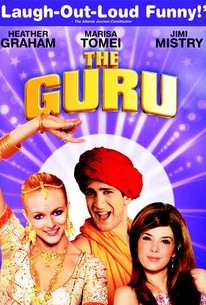 Movie Info
A visitor from the mysterious East arrives in New York -- not to offer the wisdom of the ages, but to make it big as a dancer in this "fish-out-of-water" comedy. Ramu Chandra Gupta (Jimi Mistry) grew up in India on a steady diet of movie musicals, particularly local Bollywood spectaculars and vintage American song-and-dance films. Ramu grew up with the dream of one day making it big as a dancer, and in time he found a job as a dance instructor. However, Raimu believes his destiny lies in the United States, and he leaves India behind to relocate to New York City. Unfortunately, Ramu's bright new future isn't exactly awaiting him, and he's soon sharing an overstuffed apartment with distant relatives in Queens while working in an Indian restaurant. An audition for a film director named Dwain (Michael McKean) turns out to be a tryout for a porno movie -- a role Ramu does not get when he fails to rise to the occasion. However, he does make the acquaintance of one of Dwain's "starlets," Sharona (Heather Graham), with whom he soon finds himself infatuated. Ramu gets a job entertaining guests at a party catered by his relatives when the performer originally booked is incapacitated. While Ramu's Bollywood-style dancing goes over well enough, he makes a deeper impression on Lexi (Marisa Tomei), an enthusiastic but half-bright student of Eastern philosophy who regards Ramu a font of wisdom as well as a hot date. Ramu quickly becomes the toast of New York's upper crust, and scores an agent, Josh (Rob Morrow), but how long will it be before folks realize Ramu is rather low on the enlightenment scale? And can he find happiness with Sharona while Lexi is still in the picture? The Guru also features Christine Baranski and Malachy McCourt.
Critic Reviews for The Guru
Audience Reviews for The Guru
The film lacks any big laughs and you'll probably forget you saw it an hour later. It has its moments and its sweet but is let down because of its water thin plot and lack of anything we haven't seen before.
Directors Cat
Super Reviewer
Starts well and is really funny with a self-effacing look at Indians in the US, and by the half-way mark I was loving it, then it gives up and focusses on a love story and there's a desperate rush to stop a wedding (which is nearly as bad as running to the airport), then they get together and drive off into the clouds after a song and dance. Stop it at the halfway point and it'll deserve another star.
Marcus Woolcott
Super Reviewer
Michael Gildea
Super Reviewer
The Guru Quotes
There are no approved quotes yet for this movie.
Discussion Forum
Discuss The Guru on our Movie forum!