Kaosu (Chaos) (Hideo Nakata's Chaos)
(2003)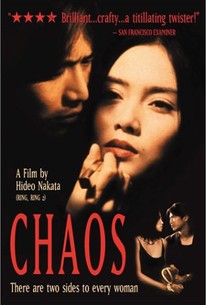 Movie Info
Following up on the wild success of Ring and Ring 2, Hideo Nakata takes a break from spine-chilling horror to direct his labyrinthine postmodern crime thriller based on a book by Shogo Utano. After wealthy businessman Takayuki Komiyama (Ken Mitsuichi) finishes lunch with his beautiful wife Saori (played by pop star Miki Nakatani) at a tony Western restaurant, he discovers that she has disappeared while he was paying the bill. When he returns to his office, he gets a phone call informing him that she has been kidnapped, and demanding a huge ransom. With police detective Hamaguchi (Jun Kunimura) looking on, Komiyama sets out to a lonely highway to drop off the money, only Saori is not there. Cut to a flashback where the kidnapper named Kuroda (Masato Hagiwara) gets a call from Saori. Being in the profession of doing strange and shady things for all kinds of people, he agrees to fake Saori's kidnapping for a cool million yen. Saori apparently feels that her husband is looking elsewhere for affection, and wants to get out while the getting is good. Flash forward to Kuroda returning to his office with ransom money in hand, only to find the trussed up dead body on his floor. The phone rings and the anonymous caller tells Kuroda that he knows he killed Saori. But is Saori really dead? ~ Jonathan Crow, Rovi
Critic Reviews for Kaosu (Chaos) (Hideo Nakata's Chaos)
Audience Reviews for Kaosu (Chaos) (Hideo Nakata's Chaos)
½
Japanese thriller that starts off as your typical kidnapping flick but then quickly develops one of the most complex plots I've ever seen in a film from any continent. It demands your complete attention because if your mind strays for too long you will become very confused. There's double and triple-crosses and some of the story is revealed in flashbacks. But despite all the plot twists it's a pretty slow-paced movie with little on-screen excitement - a million miles away from the likes of Ron Howard's 'Ransom'. It's a unique and original little film from Hideo Nakata, the director of 'Ringu' and 'Dark Water, and it's worth a watch if you have the patience.
(****): [img]http://images.rottentomatoes.com/images/user/icons/icon14.gif[/img] I really enjoyed this thriller/mystery. Well-acted, written, and directed.
TTT C
An ingenious suspense-thriller with an cleverly constructed plot that unfolds in a non-linear fashion. Upon reflection, one realizes the twists have been borrowed from other classic suspense films, but they are utilized here in such an effective and unpredictable manner that they feel fresh. The less you know going in, the better... let yourself become entrapped in its enigmatic plot.
David Schwenker
Kaosu (Chaos) (Hideo Nakata's Chaos) Quotes
There are no approved quotes yet for this movie.
Discussion Forum
Discuss Kaosu (Chaos) (Hideo Nakata's Chaos) on our Movie forum!