Avenging Angelo
(2002)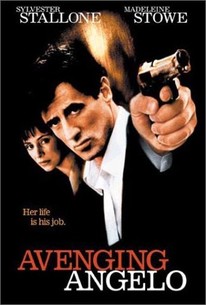 Movie Info
A woman who has just discovered she is the daughter of a murdered Mafia chieftain seeks revenge, with the aide of her Father's faithful bodyguard
Critic Reviews for Avenging Angelo
Audience Reviews for Avenging Angelo
It is by far from being an excellent comedy but it does work in a number of scenes. It is more of a revenge parody than it is an actual comedy. For my full review of Avenging Angelo (2002), check it out on this IMDB link: http://imdb.com/title/tt0275947/reviews-59
Nick Salvemini
Not many know of this film and with good reason. After Sylvester Stallone started losing his "pizzazz" at the Box Office he was regulated to Lesser name studios to finance his star. Although I'm sure there was a good reason for taking on the role in "Avenging Angelo" and on paper it doesn't sound like a bad concept, but on paper doesn't always translate well on screen. Angelo Allieghieri (Anthony Quinn in his last movie appearance) is a very old mobster. He's one of those kindly, gentlemanly mobsters who only exist in fiction. He's also one of those fictional mobsters who has vast sums of wealth without ever really doing anything. In fact, Angelo seems to have only one employee. That's his bodyguard, Frankie Delano (Sylvester Stallone). Now, here's where the story starts getting stupid and yes, the idiocy in this film does begin even before the open credits are finished. In fact, this is the only movie I've ever seen where you can literally tell that it's not worth watching as the opening credits roll. It seems Angelo gave up his daughter for adoption many years ago. He gave her to a nearby family, gave them enough money to make themselves rich and had Frankie watch out for her during her entire life, without the daughter ever knowing anything about it. Then one day, Angelo and Frankie go out to a restaurant to eat and Frankie leaves Angelo alone to go outside and talk a meter maid out of giving him a ticket. While Frankie does that, a mob hit-man named Bruno (Billy Gardell) walks up to Angelo and shoots him. Yeah, that's right. The bodyguard lets his mobster boss get killed while he's trying to sweet talk his way out of a parking ticket. After his utter and complete failure, Frankie goes to visit Angelo's long lost daughter. Her name is Jennifer Barrett (Madeline Stowe) and she's just shipped her 7 year old son off to military school and chased her husband out of the house at gunpoint after catching him having sex with one of her friends. Frankie shows the overwrought and heavily drugged (I'm not even going to get into that) Jennifer a video recording of Angelo, explaining her true heritage. Frankie sets himself up as Jennifer's bodyguard. Why does she need a bodyguard? Because mob hit men are now trying to kill her (again, I'm not even going to get into it). While their dealing with that , we're supposed to see that Frankie's been in love with Jennifer since she was a young girl and she's falling for him, until another character who makes absolutely no sense at all comes between them and I think you can figure out what happens after that. Oh, and did I mention this is supposed to be a light-hearted comedy? When you watch Avenging Angelo, you'll feel sorry for the actors. Sure, they got paid but there's not enough money in the world to adequately compensate them for being associated with this embarrassment. I wouldn't be surprised if some of them suffer from Post Traumatic Stress Disorder from their time on this film. You'll especially feel sad for Anthony Quinn and Madeline Stowe. This was Quinn's final film before he died and it is a tragedy for this garbage to be the capstone to his career. Stowe, for her part, tries so hard to carry this movie on her back. Her neurotic housewife turned mafia princess is the source of most of the story's humor and Stowe is not much of a comedienne at all. She tries to make Jennifer quirky and endearing and all she does is make her annoying. I guess You can feel sorry for Stallone, however. He got to work with Anthony Quinn. Stallone does deserves some credit here, because his performance is pretty good. I think the character works well for him. Granted, his career was at the time going downhill, but proves he can still perform.. Avenging Angelo is filled with some very corny and goofy moments that will have you shaking your head and rolling your eyes. If you have no reason to see this film, then I'm here to tell you don't bother giving yourself one. But if your some kind of "Stallone aficionado" or need to see Screen Legend "Anthony Quinn's" Last film, then I guess you've been warned.
Christopher Shacco
½
This was Anthony Quinn's final film and he plays an aging Mafia Godfather (Angelo) trying to make amends with the daughter (Madeleine Stowe) that never knew him. Sly plays Frankie, loyal bodyguard to Angelo who has been watching and keeping her safe throughout her life. When Angelo is murdered, Frankie seeks out the daughter to deliver a tape but when she finds out about her real family ties, she wants to avenge Angelo's death, hence the film's title. The plot is fairly predictable but Stallone and Stowe make it watchable.
Avenging Angelo Quotes
There are no approved quotes yet for this movie.
Discussion Forum
Discuss Avenging Angelo on our Movie forum!