The Trip
(2003)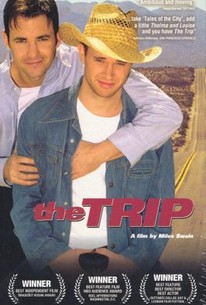 Movie Info
Stretching from the 1970s to the 1990s, The Trip chronicles the often turbulent romance between two gay men. One night in 1973, teenagers Tommy (Steve Braun) and Alan (Larry Sullivan) meet at an L.A. party. While Tommy is openly gay and organizes for gay civil rights, Alan, an aspiring journalist, is a repressed, button-down member of the Young Republicans who is working on his first book, a thick volume about the evils of homosexuality. On the pretext of interviewing him for his book, Alan invites Tommy to his house for dinner, where the sexual tension between the two is so throbbingly blatant that Alan's girlfriend makes a hasty exit. An intense romance between the two men follows. When we next see them, it's 1976, and Alan's book has been published anonymously and is being used by right-wingers who are supporting Anita Bryant's "Save Our Children" campaign in Florida. Unfortunately, Tommy finds out that Alan wrote the book and leaves him, and subsequently takes up with Peter (Ray Baker) an affluent closet case. It isn't until the '90s that Alan and Tommy meet again, and are confronted by the romance they thought they had long left behind. The Trip was screened at the 2002 Philadelphia International Gay and Lesbian Film Festival.
Critic Reviews for The Trip
Audience Reviews for The Trip
After 2 decades of courting and drama, a young couple goes to Mexico searching for a cure for HIV. Campy as hell and filled with progressive propaganda, the Trip felt short on a good premise.
Sylvester Kuo
Super Reviewer
I wasn't sure about this movie during the beginning but it turned out to be a really good love story.
Scott Alvarez
A captivating small film dealing with the relationship of two gay men over many years and the surrounding upheaval of the gay movement. Many wonderful supporting performances contribute to the overall goodwill of the film. Sirena Irwin is a sketch as Beverly the trend jumping greek chorus and Jill St. John an absolute scene stealer as Alan's boozy wise mom. The musical score is also loaded with excellent choices which really set the right tone for each scene. It all boils down however to the chemistry and performances of the two lead actors which are strong and makes you really like and root for the characters through their journey.
The Trip Quotes
There are no approved quotes yet for this movie.
Discussion Forum
Discuss The Trip on our Movie forum!