Hafið (The Sea) (Havet)
(2002)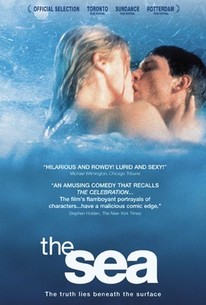 Movie Info
A family reunion staged to welcome an exiled relation turns out to be a study in tension and unpleasant feelings in this family drama. Thórdur (Gunnar Eyjólfsson) is the aging owner of a fishing business that has seen better days. Working alongside Thórdur is his oldest son, Haraldur (Sigurdur Skúlason), who is convinced the business is doomed unless they upgrade and update their equipment. Haraldur also has to deal with his outspoken wife, Áslaug (Elva Ósk Ólafsdóttir), who is convinced that both the business and their small Icelandic town are on their last legs. Meanwhile, Thórdur shares his home with Kristín (Kristbjorg Kjeld), who went from being his sister-in-law to his second wife; her daughter María (Nína Dögg Filippusdóttir); Thórdur's daughter, Ragnheidur (Gudrún Gísladóttir); her husband Morten (Sven Nordin); and Thórdur's often cranky mother, Kata (Herdís Thorvaldsdóttir). In the midst of all this family tension arrives Ágúst (Hilmir Snær Gudnason), Thórdur's youngest son, with his girlfriend Françoise (Hélène de Fougerolles) in tow. Ágúst has moved to Paris, where Thórdur has been helping his son pay for business school; however, Thórdur isn't aware that his son has quit school and wants to make a career for himself as a musician. Ágúst has also developed a bitter hatred of his former homeland, which hardly makes this family reunion any easier for the parties involved. Directed by Baltasar Kormákur, Hafid (aka The Sea) received its North American premier at the 2002 Toronto Film Festival.
Critic Reviews for Hafið (The Sea) (Havet)
Audience Reviews for Hafið (The Sea) (Havet)
It gets 3 stars because it had crazy Icelandic people yelling their Satan language at each other the whole time. Otherwise, it's a 2.5 star film about kids hating Iceland and their Dad, and one guy humps his half cousin half sister in a frozen ocean and they act like it's no biggie. Too bad he'd not be able to breath, let alone get it up. Still, it's cool when this one scary lady picks up a cop with a fork lift and dumps him into the ocean.
Curtis Lilly
Super Reviewer
Hafið (The Sea) (Havet) Quotes
There are no approved quotes yet for this movie.