Double Vision
(2002)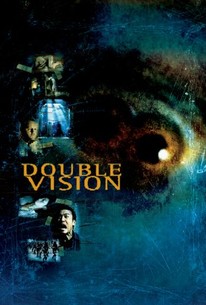 Movie Info
Directed by former critic Chen Kuo-fu, Shuang Tong (Double Vision) is a Taiwanese effort at combining various aspects of the crime and horror genres with the excitement of martial arts. Led by detective Li Feng-po (Leon Dai), a group of detectives use physical violence to get a confession from a suspected criminal. Meanwhile, several murders are occuring--a business man is found drowned in his office; a politicians mistress (Chiang Hui-hui) is burnt to death in her apartment, and an American clerk (Geo Gerstein) is eviscerated in his own church. Without a background in finding serial killers, the Taiwan authorties see fit to call the FBI. Agent Kevin Richter (David Morse) teams up with foreign affairs officer Huang Huo-tu (Tony Leung Kar-fai), and the pair sets off on a surreal trail which leads them through psychedelic fungus and a strange Taoist cult fun by former-businessmen. Eventually, Huang's (Leung Kar-fai) own inner demons are exposed and turned against him in a violent conclusion.
Critic Reviews for Double Vision
Audience Reviews for Double Vision
What the hell did I just watched, It doesn't make any sense. A gore fest with martial art to summarise the film.
Sylvester Kuo
Super Reviewer
½
Solid Asian supernatural thriller set in Taiwan about an investigation into a series of grisly murders based on Taoism mythology. Sets a decent pace from the start and doesn't shy away from the violence. Found myself a little confused in the plot towards the end as explanations for the motives of the murders started to be revealed, but I got the gist of what was going on. Overall a very decent effort.
½
More of a mystery and suspense film rather than an action and adventure, which this flick may be marketed as. When all is said and done, this is basically an Asian answer to Se7en.
Obviously, this film moves really slowly as any investigative crime drama would. Unlike Se7en, which is pretty straightforward, this film takes some paying attention to. The story also has a dash of science fiction in it, which adds in another twist. While the first half moves slow and goes into some detail it turns out just a little boring. Fortunately, the second half of the film becomes more interesting. Not only that, but just as the story picks up you are treated to a slaughter fest, which really does catch you by surprise. I guess that can be a good thing. From here on out, you get a nice twist and a confusing, yet interesting and dramatic ending. Good or bad? You be the judge.
If you are watching this film for the suspense, don't. This film does play out like a suspenseful mystery, but this film is not suspenseful or scary at all. Although, seeing a person with two pupils in one eye is freaky looking.
The best part of this picture is the acting. Tony Leung puts on a nice performance and so does the beautiful Rene Liu. Hollywood familiar face, David Morse, is pretty good as well, but is definitely under his game from his Hollywood movies. Still, that seems to be the norm with these English speaking actors in Asian films.
There is nothing really special about this film. If you are a fan of these mystery crime films or Tony Leung, then I give you the OK to watch this.
Double Vision Quotes
There are no approved quotes yet for this movie.