The Same River Twice
(2003)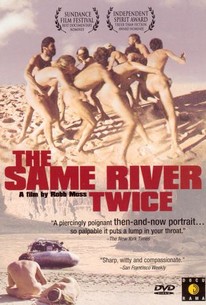 The Same River Twice Videos
The Same River Twice Photos
Movie Info
Film scholar Robb Moss combines home-movie footage from the '70s with current documentary interviews to fashion this intimate memoir of his summer-of-love friends, then and now. The Same River Twice chronicles the lives of Moss and five of his friends, all of whom served as white-water rafting tour guides while in their twenties. In that era, their nudist, free-love ways brought them together; now, Moss learns, many of the couples have split up, or given up their utopian ideals.
Critic Reviews for The Same River Twice
Audience Reviews for The Same River Twice
Perceptive and nicely edited with a set of interesting characters. The Same River Twice is an absorbing and intimate documentary.
Romeo Herrera
This is a documentary about a group of sixteen river-guide friends in their late 20's who took a month-long trip down the Colorado River in 1978 and what's become of them now, some 20 years later. (I realize that "now" is actually 26 years later, so I can only assume it took a few years to actually get the film released.) The director, Rob Moss, was a film student who brought his camera along on the 1978 trip. Thus, there's a lot of footage from that trip, mainly consisting of the friends sunbathing naked, rafting naked (but for life jackets), hiking naked, swimming naked, and eating naked. They're all young and fit and tan and all the men have full beards. And they're all naked. The film focuses on the lives of five of these people, now in their late 40's or so, beardless, and clothed. Four of the five former free-spirts ended up getting married and having kids and becoming what would be considered productive members of society. The majority of time is used to chronical the seemingly joyless life of Barry, now 50 and battling testicular cancer, who flosses regularly and runs for mayor of his small town and has three little kids, one of whom, inexplicably, has one of those rat-tail haircuts that were popular in, oh, about 1985. There's a resigned quality to Barry, who seems to accept the fact that he's chosen to lead an utterly boring life as somehow inevitable. Seemingly much happier and much truer to her former self is Danny, now a well-toned aerobics instructor who waited til age 41 to have her first kid and laughs about what she might tell them someday if they ask if she ever did drugs. And then there's Jim. All these years later, Jim still works as a river guide. He never married, never had kids, and it takes him the entire year of filming to finally pour the foundation for the house he intends to build. He wanders around with a crazed look in his eyes playing his fiddle and eating orange mush with chopsticks. "I love orange food!" he declares. Jim seems just a bit off. So what does all of this mean? What nuggets of wisdom can be gleaned from this film? How about this gem?...if you take a bunch of people in their late 20's and check back with them 20 years later, they're inevitably going to be in their late 40's. Not very profound, is it? Neither is this movie. Parts of it are entertaining and parts of it are kind of dull, but none of it means very much.
v h
The Same River Twice Quotes
There are no approved quotes yet for this movie.
Discussion Forum
Discuss The Same River Twice on our Movie forum!