High Lonesome
(1994)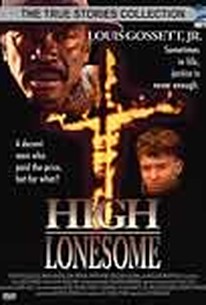 AUDIENCE SCORE
Critic Consensus: No consensus yet.
Movie Info
A 10-year-old sharecropper's son named Charlie (Joseph Mazzello) is orphaned when his abusive father dies during a fire. But he soon finds comfort and support from a kindly farmer named Walter Osgood (Louis Gossett Jr.). Unfortunately, the man is black, the boy is white and it's the rural South. Not surprisingly, their friendship raises some harsh objections from the townsfolk -- and the local Ku Klux Klan. Jeff Bleckner directs.
Critic Reviews for High Lonesome
There are no critic reviews yet for High Lonesome. Keep checking Rotten Tomatoes for updates!
Audience Reviews for High Lonesome
Interesting film, the user Film Crazy must not know from good and bad. Walter has had an extremely bad life- his wife and son has died, he is a target by the Ku Klux Klan, and he is not regulated to do as much as the whites in the small town of High Lonesome. We go over to Charlie, a boy who is disrespectful to Walter due to race, taught by his abusive father, who has just sold Charlie's sister, Tessa, in Nashville. Charlie goes to Walter for a place to stay, but their relationship isn't patching. As the film goes on, their relationship grows deeper as the KKK is closer to killing Walter. I found this movie interesting and a bit suspenseful. It's a true story that has a bit of a history lesson to it, and I found it very interesting. Very good movie for the whole family (although the film has a few racial slurs). Those who don't like it really confuse me, I found it very good.
Jordan Krampf
i was forced to watch this movie, and i wish i hadnt of bothered because i just didnt think it was that good of a movie.
Film Crazy
Super Reviewer
High Lonesome directed by Jeff Bleckner written by H. Haden Yelin starring Lou Gossett Jr., Joseph Mazzello, William Fichtner, Evan Rachel Wood, Don Swayze, James Greene, David Hart, William Lucking This character study focuses its attention on the lives of an old black farmer, a boy who is out on his own and a racist sheriff in an occasionally engaging but mostly sentimental work. Louis Gossett Jr has a fine turn as Walter Osgood, a man who has lived on his Grandfather's farm all his life. He's an upstanding citizen who pays his seed fees early every year and who is respected after a fashion by some members of the community. But mostly he's tolerated and wished to leave just like the rest of the blacks left town seven years ago after being forced out by the Klan and others. Walter refuses to leave tries simply to harvest a decent crop for the year. However, his perpetually drunk sharecropper Reuben Cantwell (Swayze) sets his crops and barn alight and ruins the entire harvest which makes the bank nervous forcing their hand to demand payment within thirty days. Then on top of all that, Cantwell's son Charlie (Mazzello) shows up in the woods acting scared and tripped out. He says his Pa ran off with his little sister Tessa (Wood) and he has no idea where they are. During a rain storm Walter brings little Charlie into his house and warms him up. This is naturally the beginning of a tight bond between the two that is threatened at all sides. So, the film deals primarily with Charlie playing cute and pining for his sister Tessa. Joseph Mazzello plays Charlie as a bit of an annoyance. Charlie is not developed as a character; rather he is presented merely as a stereotypical young boy who finds himself out of sorts and needs an adult's help, particularly a father figure. His own father is a wreck of a man who threatens to bolt his kiddies inside the shack and burn them up in it. Indeed, after he sets Walter's place on fire he does the same to his own home suggesting that he has made good on his word. But, Charlie then emerges on Walter's property to let the audience know that Tessa survived and is being held somewhere ghastly by her no-good family. Later we are told that Reuben sold Tessa for who knows what sordid activity for $300. The thoughts of what she might be doing or what might be being done to her are disturbing and have no place in such a family-friendly film such as this. Walter is in dire straights and will probably lose his farm if something magical isn't done. But of course that isn't going to happen as, like most films, this is a crowd pleaser and designed strictly to satisfy the mythical audience who apparently harp for happy, insipid endings where everything works out for everyone except whatever villains are still villains by the end. This one certainly delivers on that front. In retrospect it is probably quite easy to lay out how this film is going to proceed from a limited number of potential outcomes. It follows a formula and the end result is nauseating and dull. It lacks an emotional punch although there is a single passing moment right at the end that is effective in its ability to manipulate the audience into a specific reaction that actually pays off. This film generates little tension although one does become concerned primarily with the plight of little Tessa because there are just so many sinister possibilities although it is obvious that the film is going to choose the least unnerving option. Charlie is a dopey boy with dopey ears and just the kind of "aw gee shucks" cuteness that grates on the nerves after perhaps five minutes of exposure. It doesn't matter in the end what happens to him although we know he will not come to harm and will be comfortable and safe. It's all so dismal. Who are these films truly designed for? Are they meant as morality tales for the children? I would hope that kids are not so easily duped by such heavy handed tactics as are on display in this film. Yes, racism is bad and the Klan had a habit of performing cruel deeds on the flesh of those they deemed inappropriate for their community. Walter is a thorn in their side because he refuses to play nice like the rest of them and get out of town. He's "uppity" and subsequently special force is required to "persuade" him to leave. I suppose he's suppose to represent the eternal Will of black folk as well as their indomitable spirit in the face of great and lasting turmoil. In that case, Walter could be exchanged for any type of black worker who refuses to leave a town who clearly demonstrates their collective desire that they move on as quickly as possible. He is stubborn because he is tied to the land and doesn't know any other life. Early on it is demonstrated that local farmers understandably resent Walter because he is able to keep his farm and they are losing theirs. It isn't clear just how much racism plays into this attitude but it is suggested that it enforces the preexisting racist perspective directed toward Walter. The Sheriff (Fichtner) instructs Walter of his proper place and leads the KKK on a raid of Walter's farm where he is bound to a tree and whipped mercilessly with a switch. Charlie is snatched away by the Sheriff although he escapes shortly thereafter and returns to Walter and helps him tend to the stripes on his back. The Sheriff slowly undergoes a transformation although it isn't made explicit whether he retains the same core beliefs about blacks or if he responds strictly out of a respect for Walter that has recently blossomed. Regardless, his change seems forced and unnatural. This film is probably best remembered as one of Evan Rachel Wood's earliest appearances. Otherwise it's fairly enjoyable and features a fine turn by Louis Gossett Jr. There are moments of clarity in the film and certain characters resonate for a time but overall the story is too simple and lacks nuance and style. Certainly it is a TV movie so it can be forgiven of lacking a particular aesthetic but the lack of urgency throughout the film cannot be forgiven. There are also too many easy routes taken in this film that lead precisely where its creators want them to lead. Ultimately, it's a film that aims to please everyone while satisfying noone save those who like their history lessons handed to them in easily digestible form.
Everett Jensen
High Lonesome Quotes
There are no approved quotes yet for this movie.
Discussion Forum
Discuss High Lonesome on our Movie forum!