Fighting Mad
(1976)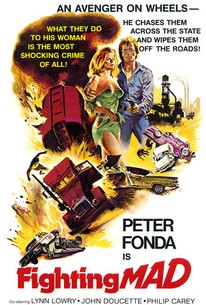 AUDIENCE SCORE
Critic Consensus: No consensus yet.
Movie Info
When a man discovers that members of his family are going to be killed because they are standing in the way of a corporate master plan which involves their land, and the local sheriff seems unconcerned about the threat, he must take care of the matter himself.
Critic Reviews for Fighting Mad
There are no critic reviews yet for Fighting Mad. Keep checking Rotten Tomatoes for updates!
Audience Reviews for Fighting Mad
This has a fairly paint by numbers plot of a man fighting back when developers try to force him off his family land, but it was made more fun by the filming locations being an area that the wife was familiar with, so she spotted a few things that I might normally be aware of. Decent exploitation fare, give it a rental.
Bill Bryant
½
What you see is what you get, son. Tom Hunter is a simple man, raising his son on his own that returns home to live with his father and siblings and raise his son as he was raised. A real-estate mogul arrives in town and tries to buy everyone's property, but the Hunter family won't sell. The neighbors try to pressure the Hunter family, to the point where bad things start happening to them. The Hunter family may eventually need to start pushing back to get everyone off their case. "You're old." "Older than some, younger than others. Jonathan Demme, director of The Machurian Candidate (2004), Philadelphia, Beloved, Murder Incorporated, Handle with Care, Something Wild, and Caged Heat, delivers Fighting Mad. The storyline for this picture is entertaining and fun to watch unfold but the plot is pretty straight forward. I did enjoy the fight scenes and felt the acting was pretty solid. The cast includes Peter Fonda, Gino Franco, Harry Northup, and Scott Glenn. "Sometimes I worry about you, young man." I DVR'd this movie off a local cable channel because it starred one of my grindhouse favorites, Peter Fonda. He's a very eccentric and unpredictable dude so I looked forward to this role. I did enjoy the father/son relationship and thought the overall movie was above average. This is far from a classic, but is definitely worth a viewing. "US Citizens have the right to protect ourselves. Grade: B-
Kevin Robbins
Tom Hunter (Peter Fonda) returns with his son after the breakup of his marriage to the rural Arkansas farmland where most of his family still lives. He soon discovers that things are not well at the old home - his father Jeff (John Doucette) and many of the neighboring farmers and ranchers are under threat from an evil corporation that wants to acquire their land so they can strip-mine it for coal. Having refused to accept the financial offer made by unscrupulous business tycoon Pierce Crabtree (Philip Carey), Jeff and his family find themselves at the mercy of hired goons who have instructions to intimidate them into submission. Tom is not a man of violence, so he tries to get the local police to deal with the problem through the proper channels. But the sheriff, Len Skerritt (Harry Northup), proves so ineffectual that Tom quickly realizes that a tougher stance is needed. Pushed to the limit following the death of his brother, sister-in-law and father, Tom finally snaps and exacts a harsh revenge on the villains with the help of his bow and arrow single-handedly taking on the bad guys. Like the tagline says: when you push too far, even a peaceful man gets fighting mad! The bespectacled Fonda makes for a great low-key hero worth rooting for.
Fighting Mad Quotes
There are no approved quotes yet for this movie.
Discussion Forum
Discuss Fighting Mad on our Movie forum!