The Invitation
(2003)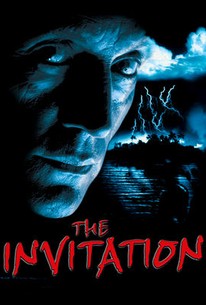 AUDIENCE SCORE
Critic Consensus: No consensus yet.
Movie Info
Six people are invited to a remote island by a famous horror author, Roland Levy (Lance Henriksen), for dinner and conversation. The only thing the people have in common is that they know Roland, although it turns out some have connections that aren't apparent. During dinner, Roland reveals that during a soul-searching expedition in the Andes, the local Indians poisoned him -- and he died. But when he was revived he saw the world differently and found the spirit within himself to become a better person. And now he wants to do the same for his six friends, who have been eating and drinking while he's been talking. And guess what? They've been poisoned -- and if they admit to the errors of their ways he'll give them the antidote. ~ Buzz McClain, Rovi
Critic Reviews for The Invitation
There are no critic reviews yet for The Invitation. Keep checking Rotten Tomatoes for updates!
Audience Reviews for The Invitation
The Invitation manages to be a mediocre horror film that had plenty of good ideas ruined by a poorly thought out script, this is a film that definitely could have been more. The result here is a tiresome film that doesn't look like there was any effort into making something thoroughly engaging and thrilling. The tension here is never really present and the cast is pretty wooden in the way they approach their roles. The film could have been a fun, entertaining low budget horror film, unfortunately, it never takes off and it ends up being a tiresome affair that isn't worth investing your time in. I really wanted to enjoy the film, unfortunately, it didn't do anything to grab my attention or entertain me. I felt that there were some good ideas at work, but it never really materializes into something truly good, and I think it's a shame because The Invitation could have been quite the horror film. The cast is lead by famed cult actor Lance Henriksen, and he's really the only good thing about the film. He displays something interesting and engaging, but due to lacking ideas, Henriksen doesn't have much to work with and he does what he can with the so-so material. For those wanting an entertaining low budget horror film, look elsewhere, you won't find it here, as it leaves a lot to be desired in terms of what it could do. The film is dull and tedious, and there never is anything happening, which makes you wonder what the director was thinking. The film just wastes a good idea, and never does anything with its story to really entertain or thrill the viewer, and it ends up being a pointless picture that's not worth your time.
Meh. Could've done alot better. With weak scares and poor acting, this so called "horror" movie fails to reach it's goal as a terrifying masterpiece.
Jacob Palacio
Super Reviewer
The Invitation Quotes
There are no approved quotes yet for this movie.
Discussion Forum
Discuss The Invitation on our Movie forum!