Mayor of the Sunset Strip
(2004)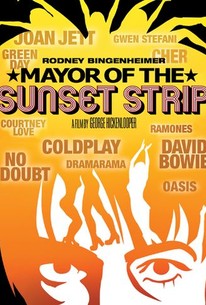 Mayor of the Sunset Strip Videos
Mayor of the Sunset Strip Photos
Movie Info
Through the glitter and the grunge, from The Monkees to Coldplay, Rodney Bingenheimer--a.k.a. "Rodney on the ROQ"--has reigned over the Los Angeles music scene for over two decades. A constantly evolving fixture as rock fan, journalist, promoter, club owner and radio DJ on KROQ, Bingenheimer has helped advance every adventurous rock mutation--California pop, glam, punk, goth, new wave, alternative--since he first hit the Sunset Strip during its psychedelic 1960s heyday.
Rating:
R (for sexual content/nudity, language and some drug references)
Genre:
,
Directed By:
Written By:
In Theaters:
On DVD:
Runtime:
Studio:
Critic Reviews for Mayor of the Sunset Strip
Audience Reviews for Mayor of the Sunset Strip
Rodney Bingenheimer is a true ICON. How in the Hell is this guy NOT in the Rock n Roll Hall of Fame.
Jim Christiansen
½
Putting the "World Famous" in "The World Famous KROQ" I used to listen to KROQ when I still lived in the Greater Los Angeles Area, and indeed I did the last time I visited, when I was driving around. This is why I have such a hard time taking it seriously when people talk about its being such an incredibly major station. You see, I used to listen to the morning show, Kevin and Bean, and they were in a constant battle for number thirteen in the ratings. Against one of the local easy listening stations. They referred to one of the prizes they were giving away once as "so good we must have won it from another radio station." They ran through their promotions budget for the year once before St. Patrick's Day and had a car wash to earn money to throw a party. And every time someone came on the station from another country and had actually heard of them, everyone at the station was surprised by it. You see, "The World Famous KROQ" started as a joke, because the station was so low-powered that you had a hard time getting reception in various parts of the city. Part of what made KROQ world famous was the presence of one Rodney Bingenheimer. To those of us who listen to the station, he is Rodney on the ROQ. And has been for a very long time. Rodney brought a lot of big-name acts to the attention of Los Angeles audiences. Indeed, he's such a fixture of the LA rock scene that the soundtrack features songs by Brian Wilson and They Might Be Giants, both mentioning Rodney by name. (The former is actually called "Rodney on the ROQ.") When Rodney was a teenager, his mom dropped him off in front of Connie Stevens' house and told him that he was now on his own. (She wasn't even home.) Unlike a lot of kids in similar situations, Rodney managed to land on his feet, which included becoming the body double for Davey Jones on [i]The Monkees[/i]. He made his way onto KROQ and into rock history. Basically, the movie is a bunch of major figures in the "alternative" music KROQ became world famous for. Rodney introduced LA audiences to David Bowie and the Sex Pistols. People in the movie range, both actually appearing and in archive footage, from Tori Amos to Billy Zoom. Rodney encountered Elvis and Iggy Pop. Mama Cass and Alice Cooper. It seems the management at KROQ isn't entirely sure what to do with him anymore, but they can't get rid of him. So he's on Sunday from midnight to three. Given the people who appear in this documentary, it's clear that there would be a heck of an outcry in some circles the management wants to stay on the good side of. Rodney on the ROQ may not have the selling power of KROQ alum Dr. Drew, but the man has been around forever, and everyone in the industry knows him. Even if they aren't interviewed here, Rodney's got memorabilia, and he's not afraid to use it. He's seen a lot, and in a way, he is himself the history of rock and roll in LA in the second half of the twentieth century. Of course, he's an unattractive little man--five foot three, short enough to stand in for former jockey Davey Jones--who has at best a strained relationship with his family. Rock and Roll history seems to be what Rodney has. Granted, there are worse things to have. A lot of the kids left on their own in the '60s didn't even survive into the '70s. Certainly very few of them would go on to become friends with Andy Warhol, Elvis Costello, and Debbie Harry. As Jed the Fish puts it, Rodney was the soul of KROQ. Why Rodney became so astonishingly popular is never made entirely clear, but it doesn't seem as though it's clear to a lot of the other people in the film. They all like him, and they know everyone else likes him, but he was just a thing which happened in the '60s, and no one can necessarily explain those. Apparently, Rodney was extremely popular with women--though no mention is made of any long-term relationships--but no one knows why. To be perfectly honest, I wasn't really paying attention to a lot of it. Most of the significance of this to me was my fond high school memories of KROQ. I never found a radio station up here with the same level of interest to me. I think the closest comparison is The End, 107.7, which always kind of felt as though it was modeling itself on KROQ and not doing an ideal job at it. Probably this is at least in part because KROQ is in a major market. I'm willing to bet there are probably people around the country who hold small but determined spots on various radio stations not unlike that of Rodney. However, the difference is that Los Angeles is a major music city and has been for a long time. Seattle briefly had a shot at that, back in the '90s, but when grunge went away, so did the emphasis on the Seattle music scene. Probably even if Rodney's mom had dropped him in Seattle, closer to where he grew up, no one would know him today. But he went to LA, and he made KROQ world famous.
Edith Nelson
½
what an odd duck of a doc. Following around this odd charactor who somehow managed to get in with the in crowd back in the 60's - full of so many flat moments (the father and stepmother scenes are enough to make you grind your teeth to nubs; and yes I understand that it is a juxtaposition shining a light on social whatsits - but a little goes a very long way!). I'm sure that patching together all the archival footage of Rodney hanging out with EVERYBODY who was somebody was a daunting task - but really, these glimses and interviews with the famous are the only interesting bits. Following Rodney to England as he castes his mother's ashes to the sea, and then the final "what do you want the ending of the film to be" question, are just.... too personal and really not rewarding at all - kind of like the film itself. There are too many moments where the camera focuses on Rodney as he says... nothing! The scenes with his girlfriend (who stares at the camera as if it's her mortal enemy) are creepy - he talks about her as if she isn't there, and then when she finally speaks it's to inform one and all that she and Rodney are just friends and that she has a "boyfriend" - it all comes off so shallow, especially in light of how the film set her up as the light of his life. The insights about the music/radio business were just perfect however - what a dog eat dog industry - and I will give Rodney credit that, in this day and age where it's all about payola (money given by the record companies to get air time for a band), he seemed to rise above it - creating superstars simply because he liked what he heard - altruistic and the way it should be - but sadly is not. It's sad how he now seems to be religated to the back burner - as if the scene has passed him by - the corporate scene perhaps, but not the musical one - and that's what he apparantly is staying true to. An odd film about an odd man.
paul sandberg
Super Reviewer
Mayor of the Sunset Strip Quotes
There are no approved quotes yet for this movie.
Discussion Forum
Discuss Mayor of the Sunset Strip on our Movie forum!