Born to Be Bad
(1934)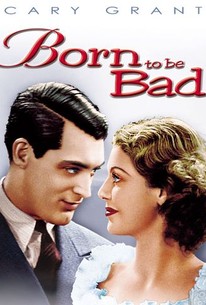 AUDIENCE SCORE
Critic Consensus: No consensus yet.
Movie Info
Sugary sweet Loretta Young does an uncharacteristic about-face in 20th Century Productions' Born to be Bad. Young is cast as Letty Strong, an unwed teenaged mother who tricks happily married dairy farmer Malcolm Traver (Cary Grant) into adopting her baby. She later uses all her feminine wiles to steal Traver away from his mousy little wife Alyce (Marion Burns). Bad though Letty is, however, she's still portrayed by Loretta Young, so a last-minute redemption is inevitable. Juvenile radio actor Jackie Kelk plays Letty's obnoxious child, who (somewhat amusingly) turns out to be a bastard in more ways than one. No relation to the 1950 Joan Fontaine vehicle of the same name, Born to be Bad was co-scripted by actor Ralph Graves.
Rating:
NR
Genre:
,
Directed By:
Written By:
In Theaters:
On DVD:
Runtime:
Studio:
20th Century Fox Film Corporation
Critic Reviews for Born to Be Bad
All Critics (1) | Fresh (0) | Rotten (1)
Even by standards of Depression melodramas, this banal woman's picture, about a single mom forced to give up her son to guardian parents, further suffers from a weak perfromance by Cary Grant and unconvincing one from Loretta Young.

Audience Reviews for Born to Be Bad
½
A woman like you doesn't deserve a child Letty Strong became pregnant at fifteen and is determined to raise her son to be strong, street smart, and never to be taken advantage of. She doesn't care how she gets the money to raise him or from whom. Her son falls into legal issues and she loses him temporarily. She will stop at nothing to see him and remain an intricate part of his life...even if it means passing up on love. "I don't like school. I've already got plenty of brains." Lowell Sherman, director of False Faces, Night Life of the Gods, High Stakes, Bachelor Apartment, The Royal Bed, and Broadway thru a Keyhole, delivers Born to be Bad. The storyline for this picture is very good and Loretta Young delivers an amazing performance (she was 21 years old in this film and this was her 49th film). The cast as a whole is amazing and also stars Cary Grant, Jackie Kelk, and Marion Burns. "If you're going to dish it out you better be able to take it." I came across this film while looking for Cary Grant pictures and decided to DVR it. I was pleasantly surprised by the greatness of this gem. I had never heard of it and have not seen many Young pictures. She was amazing in this film and even stole the light from the great Cary Grant (one of my all time favorites). I strongly recommend seeing this picture. "If you don't do you're gonna get done." Grade: A
Kevin Robbins
½
An early attempt on Grant's part, most of the film is less of an actual film and more of a cautionary tale for the nymphets and flappers still left over from the roaring twenties. At least the film is carried on the backs of two of the best stars of the day. Old Hollywood legends Cary Grant and Loretta Young are the main reason to watch this venture, not for any superb performances, because neither shines in this dour picture. Grant is still wet behind the ears, having followed Mae West around like a lovesick puppy in his last two films, and was completely wrong for the part of the golden boy philanthropist with a bendable will. Loretta, as the loving mother with a bad girl streak, is perfectly in her element but falls flat with extremely lax dialogue and ridiculous supporting characters. The financial aspect of the film, which is part of the plot, makes no sense, and the fact that she's a mother makes even less sense. The film feels cut up and censored, and most of the more mature themes are so watered down and ill used that it's little more than a morality tale. It's short, and mind numbingly self-indulgent, soapy and melodramatic, and there's little to this film except some early examples of Grant and Young's acting. Easy to miss, I assure you.
Spencer S.
Super Reviewer
Bad acting (yes, even The Mr. Cary Grant - it was before he found his style). Bad filming. Cliched and ill-paced story.
Jennifer D
Super Reviewer
Born to Be Bad Quotes
There are no approved quotes yet for this movie.
Discussion Forum
Discuss Born to Be Bad on our Movie forum!