The Job
(2003)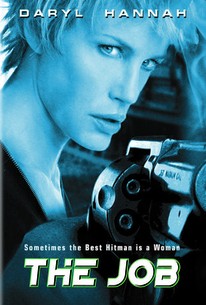 AUDIENCE SCORE
Critic Consensus: No consensus yet.
Movie Info
A fearsome mercenary finds her conscience getting the best of her after agreeing to fulfill one final contract in this action effort starring Kill Bill's Daryl Hannah. Murder for hire has been CJ's game for as long as she can remember, but before she retires from a life of killing she's obligated to carry out one final mission. As CJ sets her sights on her final mark, her conscience takes a premature grip. Will CJ be able to overcome her newfound morality to carry out her last contract and make a clean break from her bloody past or will she take the ultimate, and potentially deadly, stand for the righteous beliefs on which she has staked her future?
Rating:
R
Genre:
, ,
Directed By:
Written By:
In Theaters:
On DVD:
Runtime:
Studio:
Lionsgate
Critic Reviews for The Job
There are no critic reviews yet for The Job. Keep checking Rotten Tomatoes for updates!
Audience Reviews for The Job
½
This was the worst movie I saw. Not a good role for Daryl Hannah. Terrible acting and didn't like the story line.
Lynn Bergendorff
Pavement walks a fine line between feature film and movie-of-the-week, but features a quietly intense performance by Robert Patrick as a hunter/tracker sniffing out the trail of his sister's killer. Lauren Holly is fine as the lead detective who first doubts, and then relies heavily, on the abilities of this stranger to solve the case. The script is somewhat weak and Patrick's character figures things out a little too easily to keep us guessing. The audience sees the thinly veiled climax coming a mile away and you'll spend the last 1/3 of the film waiting for the characters to figure out what you already know. Overall, Pavement is an ok diversion but certainly nowhere near the best film of the genre'. The Job is labeled an action/adventure, but contains neither. Daryl Hannah is CJ, a hit woman who wants out of the profession, but must first follow the bloody trail left by 20 kilos of blow - killing whoever is in possession of it and returning it to her boss. The drugs ultimately end up with a teenage couple (Dominique Swain & Brad Renfro) who see it as their ticket to a better way of life - if they can just get someone to take it off their hands. CJ catches up to the pair and is prepared to knock them off until she realizes the girl is pregnant. You see, CJ has just discovered that SHE is pregnant and becomes twisted up in the moral implication of killing a pregnant woman. The irony is, while we're supposed to believe that CJ finds killing another's child morally objectionable, she has no problem deciding to take the life of her own - a decision that she may or may not follow through with. There is a sub-plot involving CJ's involvement with an ex-priest who seems hell bent on saving her from herself, but I had a hard time believing that a guy like Rick would fall so hard for a woman whose soul has seen so much damage. The performances are mediocre all the way around and, at times, the movie feels like a really bad Lifetime movie. The Job comes to a frenetic, and wholly unbelievable, climax and leaves several loose ends dangling - suggesting (and I truly hope I'm wrong) that a sequel may be in the works. Everyone involved with THIS Job should have been fired!
Rick Elliott
Discussion Forum
Discuss The Job on our Movie forum!