The Outsider
(2002)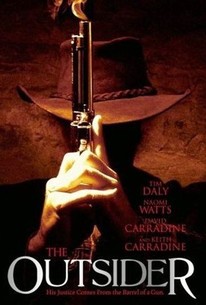 AUDIENCE SCORE
Critic Consensus: No consensus yet.
Movie Info
The made-for-cable Western The Outsider would seem to have its roots in the classic John Wayne theatrical feature Angel and the Badman. In the Montana of the late 19th century, wounded outlaw Johnny Gault (Tim Daly) is given refuge by widowed sheep farmer Rebecca Yoder (Naomi Watts). This puts Rebecca on the outs with her own people, a pacifist Quaker sect, and also incurs the wrath of a ruthless cattle baron, who has long coveted the Quakers' land--and who also was responsible for the death of Rebecca's husband. Not surprisingly, Johnny Gault turns out to be the traditional "good bad man", capable of solving everyone's problems--except, perhaps, his own. The Outsider first aired over the Showtime cable network on November 10, 2002.
Critic Reviews for The Outsider
Audience Reviews for The Outsider
I almost didn't want to watch this due to the "western" genre classification. This movie definitely has many bits of that, but I personally would consider it more a romantic drama. ....I have kept my eye on Tim Daly ever since Wings. He is very good, and I swear to god he is getting better, and better looking. That aside..this move was well done, and enjoyable. Great acting all around. Good story, too.
Cynthia S.
Super Reviewer
This movie went beyond your typical western to make one of the best westerns I personally have ever seen. A forbidden romance between two completley different people changes the life of each other, there new family, religous groups, and an entire community. While greed, lust, and gunslinging still keep this western film true to format the idea of an "Outsider" who has typically been a gunslinging badass becoming romantically involved with a Christian woman from the plain people makes a more then interesting plot. The movie has everything from soundtrack, scenes, action, romance, plot, and actors. It does not miss a step and easily a five-star movie.
Bobby Hobbs
Super Reviewer
The Outsider Quotes
There are no approved quotes yet for this movie.