Crazy Love
(1987)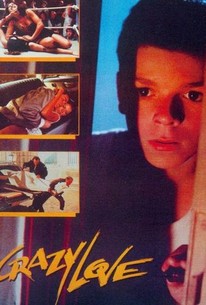 AUDIENCE SCORE
Critic Consensus: No consensus yet.
Movie Info
If you like the title of this Belgian production, you'll love its source, a story by Charles Bukowski titled The Copulating Mermaid of Venice, Calif. Actually the film draws material from three different Bukowski stories to outline three crucial stages in a man's life. The hero begins as a 12-year old naif, "develops" into a miserable pimply adolescent who yearns for the girls who laugh in his face, and "matures" into an alcoholic, drug-addicted bum with a predilection for necrophilia. Amazingly, the material is handled with subtlety and sensitivity--the trick is to get through the film's first painful moments. The episodic nature of Love is a Dog From Hell is due to the fact that the film began as a 30-minute short subject, then was expanded into a feature when a distributor evinced interest. For its grindhouse playoffs, Love is a Dog From Hell was retitled Crazy Love.
Audience Reviews for Crazy Love
A coming of age story for losers, Crazy Love is an adaption of a Charles Bukowski short story. Though it could be called self indulgent (by my wife in particular) this sad, disturbing fairy tale is always intriguing and entertaining. It's beautifully directed and the acting is excellent, but be prepared for some unsavoury scenes. However, if you're up to it and depressing, warped drama is up your alley, this film should be your cup of tea... or whiskey if you're anything like Bukowski. The drunk.
Christopher Brown
Super Reviewer
Crazy Love Quotes
There are no approved quotes yet for this movie.