Bon Voyage
(2004)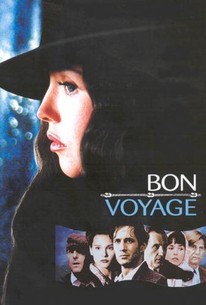 Movie Info
The last frantic days before the Germans seized France in 1940 provide an unlikely backdrop for this dark comedy. Viviane (Isabelle Adjani) is a glamorous and well-known film actress who attracts the attentions of many men -- often many she has no interest in knowing. One night, at a reception following the premiere of her latest picture, Viviane finds herself pursued by Beaufort (Gérard Depardieu), a government official whose girth exceeds his charm. To throw him off her trail, Viviane allows a cranky older man, André Arpel (Nicolas Vaude), to escort her home. During the evening, Viviane and André quarrel, and after slapping him, she discovers that he has simply dropped dead. An understandably terrified Viviane calls a former boyfriend, Frédéric Roger (Grégori Derangère), and asks him to help her get rid of the body. In hopes of reviving their romance, he agrees, but after an auto accident, Frédéric is caught with the body, and is taken to jail to await his trial. When word gets out that German troops are due to arrive in Paris at any minute, Frédéric and his fellow prisoners are instructed they're to be moved out of town; Frédéric is handcuffed to petty thief Raoul (Yvan Attal), and en route the two are able to make their escape. When Frédéric learns that Viviane has fled to Bordeaux, along with much of the French upper crust, he makes his way there, where he finds he has a new rival for her affections -- Beaufort, who no longer seems such a poor prospect.
Rating:
PG-13 (for some violence)
Genre:
, ,
Directed By:
Written By:
In Theaters:
On DVD:
Box Office:
$2,284,747.00
Runtime:
Studio:
Critic Reviews for Bon Voyage
Audience Reviews for Bon Voyage
well crafted and charming period piece centres around a group of parisians right b4 german invasion in 1940 was hoping 4 chemistry between adjani & depardieu like say hepburn/tracey and though his character makes and entrance like mrs charles in 'the thin man' pic not much materializes
Greg Wood
Fun film, not too sweet and neither too melodramatic. Good casting too in everyone from Depardieu to Derrangere. And of course, Adjani and Ledoyen are the type of eye candy i wish i could see more in movies.
Tsubaki Sanjuro
Super Reviewer
½
[font=Century Gothic][color=olive]Escape is a major theme in "Bon Voyage". The movie starts out and ends in a movie theatre with people watching a lighthearted film. At the beginning of the film, it is on the verge of World War II. And most of the movie takes place after the Germans have invaded France. There are two competing plotlines with a young writer who has just escaped from jail moving between the two. 1) a famous actress is seeking to stay ahead of the German army. 2) an old professor and his assistants are seeking to make it out of the country with their notes and a car full of heavy water. There are a couple of contrasts between the storylines - an independent woman vs a subordinate woman(the independent actress is seen as being selfish; she is also older than the assistant); being placid vs. resistance.[/color][/font] [font=Century Gothic][color=#808000][/color][/font] [font=Century Gothic][color=#808000]"Bon Voyage" is a frenetically paced movie for most of its running time but it does go on too long, as one of the plotlines runs out of steam. It is hard to believe how some of the characters are so self-absorbed in the face of crisis. Usually, people will stop for a second after the crisis, have some tea and then go back being so engrossed in their own lives. Plus, there is an inordinately high level of coincedence at work here.[/color][/font] [font=Century Gothic][color=#808000][/color][/font] [font=Century Gothic][color=#808000][/color][/font]
Bon Voyage Quotes
There are no approved quotes yet for this movie.
Discussion Forum
Discuss Bon Voyage on our Movie forum!