The Nest
(2002)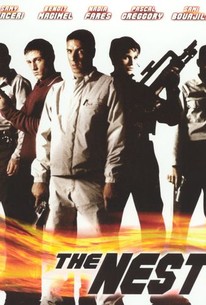 AUDIENCE SCORE
Critic Consensus: No consensus yet.
Movie Info
Directed by Florent E. Siri, Nid De Guepes chronicles the unlikey cooperation between a band of thieves and an elite group of judicial escorts. As several characters prepare for their various missions on Bastille Day, an unapologetic Albanian mobster (Angelo Infanti) is being flown in to stand trial. Despite extensive security, Nexhep's (Infanti) armed flunkies stage a violent diversion, and the escorts end up in the same warehouse where some young criminals are attempting to steal truckloads of expensive computers. Though the group of thieves are initially suspicious of the new visitors, they must quickly combine their efforts to stay alive amongst the Albanian mafia's dogged and potentially deadly determination to find their captured leader. Nid De Guepes also features Damy Naceri, Benoit Magimel, Nadia Fares, Pascal Greggory, and Sami Bouajila.
Critic Reviews for The Nest
All Critics (1) | Fresh (0) | Rotten (1) | DVD (2)
We never learn anything, really, about the attackers, so we don't mind watching as they're slaughtered. Unfortunately, we learn little more about our heroes.
Audience Reviews for The Nest
½
A good action movie that should have been great if there was more character, and plot development. The concept of the plot was great, but I found myself confused alot of the time on who was who, and why certain things were happening. Decently done, for the most part.
Cynthia S.
Super Reviewer
An action packed shoot-em up french film. My only real complaint is none of the actors stood out, nor am I familiar with any of them. It also seemed the ending was rushed, with no final showdown between the army of followers of the prisoner and the swat/police force. Perhaps the budget ran out; either way, if you are a fan of gunplay and a decent story even though its a bit overblown, this is a good watch!
Nothing new, but entertaining enough thanks to capable direction.
William Goss
Super Reviewer
The Nest Quotes
There are no approved quotes yet for this movie.