Out of Reach
(2004)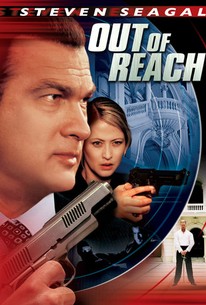 AUDIENCE SCORE
Critic Consensus: No consensus yet.
Movie Info
Amoral men who traffic in human beings pick the wrong girl to exploit when they discover her best friend is an fighting machine bent on revenge in this thriller. Billy Ray Lancing (Steven Seagal) is a former American intelligence agent who has retired to seek peace of mind by living alone with nature. Lancing, however, has developed a close relationship through the mail with Irena (Ida Nowakowska), an orphaned teenager living in Poland; they correspond frequently, and Lancing uses his letters to help teach her how to read code. When Irena's letters stop arriving, and Lancing receives a terse message saying she won't be contacting him again, he becomes suspicious and travels to Poland. There, Lancing makes the shocking discovery that the charitable organization for orphaned children Lancing had been helping to support is actually a front for a worldwide network of sexual slavery. Working with Polish law enforcement, Lancing sets out to find Irena and her fellow orphans before it's too late, using his years of experience to ferret out the men responsible and his talent for codes to stay in touch with Irena.
Rating:
R (adult situations/language, violence)
Genre:
, ,
Directed By:
Written By:
In Theaters:
On DVD:
Runtime:
Studio:
Sony Pictures Home Entertainment
Critic Reviews for Out of Reach
There are no critic reviews yet for Out of Reach. Keep checking Rotten Tomatoes for updates!
Audience Reviews for Out of Reach
½
Steven Seagal plays the character he always plays; an ex-CIA badass who's being harassed by his former employer. They show up at his house, he kicks their ass and then flees. Not only that but Seagal's character has a little orphan Annie pen pal who lives somewhere in eastern Europe. Well, she gets sold into sex slavery and so Seagal decides to go solve the mystery with the help of another little kid that doesn't talk and a police-lady who looks like Shannon Doherty's Latvian doppelganger. This movie basically falls into the slightly-above bad-category. It isn't terrible but it isn't of the high schlock caliber for which I normally watch his films. The gunfights are decent and there are plenty of gratuitous decapitations, but this was right around the time when Seagal began to totally cash in most of his performances. The fighting got lazier, he doesn't even attempt to emote, and he can't be bothered with overdubbing narration. So in turn we get some guy who sounds like Christopher Walken, dressed as a creepy clown, while attempting a Steven Seagal impersonation. If you're a Seagal-ite, go for it. If you're curious to see what an episode of 24 starring Seagal would be like, go for it. Other than that, there are better things to do, I guess. Oh, and the best part of this movie is that he doesn't even rescue the other girls in the sex slave ring. He sticks a samurai sword through the bad guy's chest (a guy who's only a higher up in the human trafficking ring) and walks into the sunset with his little pal. I thought maybe it was going to be implied that the mission continued, but then there's a prologue where the little girl (who is now living with Seagal) explains that they're in America and that Seagal spends most of his free time helping injured animals in the forest... what a dick.
Brett Warren
Super Reviewer
Another forgettable Seagal vehicle (is there any other type?), who, for a quarter of the time has his voice dubbed by someone else. There's a couple of good action sequences, graet locations in Poland and a decent stonefaced villain (Matt Schulze).
FilmGrinder Stone
This is just another run of the mill crappy Seagal flick. There was some cool action, but not really enough to make it worth while.
Dutch Vandar
Out of Reach Quotes
There are no approved quotes yet for this movie.