Titanic
(1943)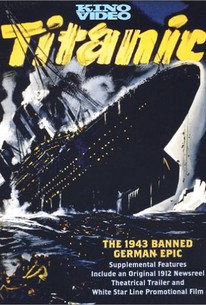 AUDIENCE SCORE
Critic Consensus: No consensus yet.
Movie Info
This dramatic recounting of the disastrous maiden voyage of H.M.S. Titanic was produced in Germany during WWII and features an undertow of anti-British propaganda absent from other versions of the story. The building of the luxurious ocean liner Titantic proves to be a hugely expensive proposition, and Sir Bruce Ismay (Ernst Fritz Furbringer), president of White Star Lines, wants to make sure that the ship's first crossing is big news. It is at his urging that Capt. Edward J. Smith (Otto Wernicke) pushes for a record speed in their voyage to New York, sowing the seeds for later disaster. This Titanic features a number of rich, decadent British passengers and a handful noble German peasants. While the film was produced with the participation of the Nazi government, its portrait of a disaster at sea proved to be more depressing than inspiring, and it was pulled from theaters shortly after its initial release, though it has since appeared on television and on home video in Europe. ~ Mark Deming, Rovi
Rating:
NR
Genre:
, ,
Directed By:
In Theaters:
On DVD:
Runtime:
Critic Reviews for Titanic
Audience Reviews for Titanic
½
The Nazi propaganda film Titanic is incredibly bizarre yet imminently fascinating. Aside from a few names, the ship, and the iceberg, there's no resemblance to the real people and events. In this version greedy president of the White Star Line, Bruce Ismay, pushes the Titanic's speed in order to set a new world record in hopes of raising the company's stock price and winning a prestigious Blue Ribbon; meanwhile the ship's only German officer, Petersen, attempts to warn passengers and crew that an impending disaster awaits if the ship isn't slowed down before they reach the ice fields that lie ahead. The film is appalling on so many levels, yet it's rather interesting to see how things have been distorted to fit the anti-British narrative. An obscene piece of propaganda, Titanic failed spectacularly (forgotten almost immediately after it was released) and sank into obscurity.
Dann Michalski
Super Reviewer
½
This bizarre film version of the disaster from Nazi Germany ended up being a progenitor to all future dramatizations of the "Titanic" tragedy, setting up most known conventions and cliches that extend even down to James Cameron's epic. The film's backstory of murder, betrayal and genocide is worthy of a cinematic treatment in itself. Watch out for the beautiful and mysterious Sybille Schmitz as the enigmatic romantic lead. Knowing her tragic end only adds up to overall aura of dread and horror of the Nazi "Titanic."
Evgueni Mlodik
One of the earliest films ever made about the Titanic disaster was a German propaganda film, largely intended to make the English look greedy. So how does this film work overall? Well, occasionally, it works very well. Some scenes between the people on the ship are quite dramatic and at times I even cared about what happened to the passengers. I did have a good time watching this movie, even if the propaganda message was a little too in-you-face for my taste. But first, I want to give some history for this film, because it has one of the most fascinating histories of any film since Citizen Kane... What intrigues me about the history of this film is the fact that it was banned in Germany, even though it was intended to do exactly what I would think the Germans would want to do to the English reputation during WWII. The reason? The German people were undergoing almost nightly bombing raids by the Allied forces and it was decided that a film depicting mass deaths would be unfavorable. The film was heavily censored and cut after finally being released and it wasn't until the 2000s that the fully restored version was finally released, full of anti-English propaganda. The film itself was shot on board the SS Cap Arcona, a ship used by the Germans during WWII to transport prisoners and other Germans. In 1945, only a couple years after filming for the 1943 film was completed, the SS Cap Arcona sank, becoming one of the largest maritime disasters in history. Five thousand lives were lost, as opposed to the fifteen hundred that were lost on the Titanic. So, what about the film itself? The effects for the time were quite brilliant. This was the most expensive German film ever made at the time (as is customary for Titanic films). But I was also relatively impressed with the level of drama that occurred on screen apart from being purely about the sinking of the ship. And then we come to the main plots of the film, including star-crossed lovers, a stolen blue jewel, a man being falsely accused of a crime and being rescued from the prison cabin with an axe by another man, and a gentleman forcing his love to take his place on the lifeboat while the camera follows the girl's POV as he disappears from view on deck. Yes, the similarities are uncanny to another Titanic film made fifty or so years later. As a matter of fact, it may be difficult not to admit that this film is one of the most influential films made about the Titanic, even though it was not the first (there was a 30 minute silent German film made about the disaster, but, frankly, it sucks and is hardly worth mentioning). This review has been one of my more unusually structured reviews. When it comes to the question of whether not a modern audience should bother with what comes down to being an overly preachy and primitive Titanic movie, I'm not sure I'd be able to recommend the film on that alone. However, the circumstances surrounding the film--particularly its own history and influence on other Titanic films--is really worth looking into. In fact, I would have to say that it is, indeed, a must-see purely for those reasons. And, admittedly, it is entertaining on its own as well. The run-time is surprisingly short and a lot of the characters are pretty forgettable, but I did enjoy myself while watching it. The drama is palpable, the effects are fun, and it is interesting to see the disaster from this perspective. So, I give it a recommendation. 6/10
Forrest P
Titanic Quotes
There are no approved quotes yet for this movie.