Slasher
(2004)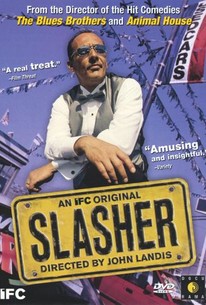 Movie Info
Director John Landis, best known for comedies such as Animal House and The Blues Brothers, turns to the documentary genre with this feature-length profile of high-strung freelance used-car salesman Michael Bennett. For the right price, Bennett and his team of salesmen will come to your used-car dealership and work the customers as they move out as many vehicles as possible during a three-day blowout sale. Slasher offers an inside look at Bennett's personal life and the long road to his current success, as well as revealing some of the tricks of the car-dealing trade -- not all of which appear to be entirely scrupulous. Slasher (the title comes from Bennett's nickname, as well as his trick of "slashing prices," most of which have been artificially raised first) was produced for broadcast on the premium cable network The Independent Film Channel.
Critic Reviews for Slasher
Audience Reviews for Slasher
½
A lunatic disguised as a car salesman murders his victims in the confines of his flourescent-lit, wood paneling office. Kidding of course...however, if there is any doubt remaining in anyone's mind, Slasher has finally come along to put it to rest. Bottom line, you just can't trust a used car salesman. A very entertaining documentary, that includes a fun soundtrack by original Stax artists and directed by John Landis, about a bizarre indidual who helps car lots clear their older models. I wouldn't buy a car from him, but Michael Bennett's an entertaining guy to watch. This is a much safer way to get the slasher experience without getting burned on a used car lot.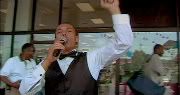 El Hombre Invisible
Super Reviewer
In his first feature on digital film, John Landis tackles something he hasn't before: a documentary. Landis follows a "mercenary car salesman" and his partners on a trip to Memphis, Tennessee to shift as many cars at a local dealership. Their business is traveling the country as "top salesmen" - selling large quantities of cars at dealerships that, for various reasons, desperately need to get cars off their lot and a temporary sales boost. The main subject, Michael, is one of the most interesting documentary subjects I've seen and his personality not only carries the movie, but also creates plot where there is simply life being lived. His two friends, try to keep him out of trouble, being a hyperactive alcoholic with a loud mouth that he runs as fast as top sports car, as well as having several other unique traits that I can't peg as I'm not a psychologist. Besides his "lead", Landis is able to capture a portrait of lower class and middle class America in poorer cities. There are some tear-tugging moments, both out of laughter and sympathy. Landis said he had trouble working with a doc crew because he is used to setting up shots as opposed to just shooting (and disregarding things like other camera operators or crew members in a shot). However, Landis does get some of his desired set-up shots, and they look just as great as his studio work, but is more powerful in my opinion because of the catching content and the serendipitous execution of documentary.
_kelly .King
Super Reviewer
Slasher Quotes
There are no approved quotes yet for this movie.