Born Rich
(2004)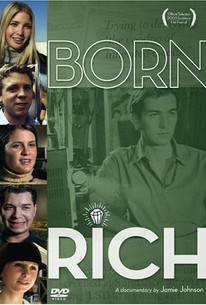 AUDIENCE SCORE
Critic Consensus: No consensus yet.
Movie Info
An Inside Look at the Lives of the Heirs to The World's Greatest Family Fortunes Jamie Johnson, 20-year-old heir to the Johnson & Johnson pharmaceutical empire, turns in a remarkable documentary about the lives of the children of the wealthiest families in the world. This 2003 Sundance Film Festival Selection and Emmy-nominated documentary shows Johnson turning the camera on himself and 10 of his friends. Born Rich candidly reveals the great privileges and the excess baggage that go along with their high net worth. For the first time ever in a feature documentary, hear Trumps, Bloombergs and Vanderbilts discuss the one subject everybody knows is taboo—money, and lots of it. Includes: Georgianna Bloomberg, media heiress Stephanie Ercklentz, finance heiress Cody Franchetti, textile heir Christina Floyd, professional sports heiress Juliet Hartford, A&P Supermarket heiress Josiah Hornblower, Vanderbilt/Whitney heir S.I. Newhouse IV, media heir Ivanka Trump, real estate heiress Luke Weill, gaming industry heir Carlo von Zeitschel, European royalty DVD Extras: -Commentary by director Jamie Johnson, producer Dirk Wittenborn and textile heir Cody Franchetti -Deleted scenes
Critic Reviews for Born Rich
All Critics (3) | Top Critics (1) | Fresh (3) | Rotten (0) | DVD (6)
It's [Johnson's] first film (it shows), but he strikes gold by getting the kind of access to his peers no one else could.
San Francisco Chronicle
Top Critic
At least Johnson was honest to both the audience and himself, and kept an open mind. Really, that's all you can ask for.
Audience Reviews for Born Rich
The documentary is handled adequately, but it's the access and the candor Johnson is able to provide that makes Born Rich a little interesting.
Ken Stachnik
Super Reviewer
½
This is an incredibly interesting documentary that at surface level will challenge or affirm stereotypes of rich kids (most likely both). However, I didn't find it brilliant for kids behaving in expected patterns, but because of how well it illustrated the systemic embeddedness of wealth once acquired. Thinking more broadly the viewer can find ways to relate to many of the things these brats are going through on our own smaller less decadent scale. If I ever wanted to show a movie that illustrated white privilege this might be the first place I'd go. Mr. Johnson might have thought to hire someone else to do the narration. His voice is exceedingly dull. The characters are great at grabbing your attention and holding it even if its because you're realizing what clueless snobs they can be. The movie shows its amateur nature but the lack of production quality is more than made up for in the interesting content.
Existen Z.
Really insightful. We have recently become more facinated with young hollywood and the likes of Paris Hilton types. I think everyone has wondered what it would be like to be born rich. More money more problems... Children of wealth strugle with living up to expectations and fighting the prejuduce of peers growing up. Surpisingly most don't just enjoy the free money but try to do something meaningful. One man even realizes that hard work makes him happy. It may be easy to hate these people but maybe we shouldn't.
Jeff Heruth
Born Rich Quotes
There are no approved quotes yet for this movie.
Discussion Forum
Discuss Born Rich on our Movie forum!