Hum Tum
(2004)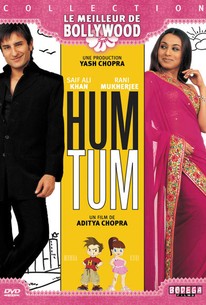 AUDIENCE SCORE
Critic Consensus: No consensus yet.
Movie Info
Karan (Saif Ali Khan) is a cartoonist and a self-styled ladies' man. His daily comic, Hum Tum, playfully explores the battle of the sexes. On a plane from Delhi to New York, he sits next to Rhea (Rani Mukherjee), and she doesn't seem the least bit interested in him. His feeble attempts at flirting go nowhere, but when they have a stopover in Amsterdam, she agrees to spend a few hours exploring the city with him. Karan quickly learns he has little in common with the feisty but proper Rhea, but he won't give up. He ends their contentious time together with an unwelcome kiss. Rhea is outraged and storms off, but Karan insists they'll meet again. And he's right. Months later in New York, he spots her in the park, and she causes a scene with his girlfriend. They don't see each other again until three years later, when Karan is helping his mother plan a wedding that turns out to be Rhea's. They bicker again, but this time, they part on good terms. Years later in Paris, Karan is visiting his father (Rishi Kapoor), when he runs into Rhea again. He learns from Rhea's mother (Kiron Kher) that a tragedy has befallen the girl, and he sets out to help her reclaim her positive outlook on life. Sensing that she needs to be with a straight-laced, boring guy, he conspires with Rhea's mother to fix her up with his shy best friend, Mihir (Jimmy Shergill). Things don't go as planned, and Karan and Rhea find themselves forced to confront their feelings for each other. Former film critic Kunal Kohli wrote and directed Hum Tum, his second feature. The score is by Jatin-Lalit, with lyrics by Prasoon Joshi. The film features animated sequences and a few surprise guest appearances. ~ Josh Ralske, All Movie Guide
Critic Reviews for Hum Tum
All Critics (2) | Fresh (2) | Rotten (0)
Takes a refreshingly liberated and modern stance on relationships by ultraconservative Hindi film standards--and having such savvy to go along with the usual sweetness adds to frothy charms.
While it's sweetly romantic, Hum Tum gratifyingly avoids melodrama.
Audience Reviews for Hum Tum
Wonderfully well-written! Great characterization. Intriguing cinematography. Rhea is focused, fierce, and determined. Karan is carefree, immature, and a bit of a womanizer. Their initial meeting on a flight to the US reflectively marks a series of wily and highly amusing banter of the minds when they summarize each other's capacities. As they continuously meet over time, the two begin to learn more about each other and a friendship flourishes. Their numerous interactions further strengthens their bond, and their feelings for one another begins to evolve. Saif Ali Khan, Rani Mukherjee, Rishi Kapoor, Rati Agnihotri, Kirron Kher, Jimmy Shergill, Abhishek Bachchan, and Isha Koppikar stars. Worthy!
Good film. A little long and the music numbers aren't so awesome. Liked the story though.
Hum Tum Quotes
There are no approved quotes yet for this movie.