The 24th Day
(2004)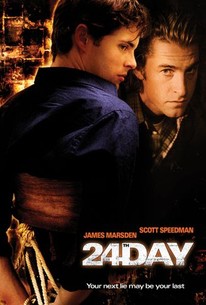 Movie Info
A casual gay pickup turns into a nightmare in Tony Piccirillo's adaptation of his play, The 24th Day. Tom (Scott Speedman of TV's Felicity) approaches Dan (James Marsden of X-Men) in a bar, and the two hit it off. Tom brings Dan home to his apartment, where, after some idle chatter, Dan tries to kiss Tom. Tom shies away, and begins asking Dan about his sexual history. Dan eventually realizes that he's been in Tom's apartment before. They had an encounter several years ago, and Tom has a much clearer memory of that night than Dan does. Eventually, things turn ugly, and Dan finds himself tied to a chair. Tom extracts a blood sample, explaining to Dan that he just recently learned that he's HIV-positive. Tom insists that he's not gay, and believes that the only way he could have gotten the virus is from Dan. Tom goes out to have the blood sample tested, and when he gets back, he tells Dan that when he gets the results back, if Dan is HIV-positive, Tom is going to kill him. As they wait for the results, the hours go by, and Dan tries to engage Tom in conversation, to engage his sympathy, and to find a way to escape. As the two men talk and battle for control, Piccirillo flashes back to the recent past, and Tom's motives become more clear. The 24th Day was shown at the 2004 Tribeca Film Festival.
Critic Reviews for The 24th Day
Audience Reviews for The 24th Day
½
Tom (Scott Speedman) is a married man and expected father, who has just found out that he is HIV positive. He's not a promiscuous guy, and traces it back to a one night stand, he had years back with a man. Tom's not gay, but like many, he was curious and thanks to too much alcohol, let it go too far. Seething with anger and thinking about revenge, Tom starts scouting local gay bars until he finds Dan (James Marsden). As soon as he sees him, Tom starts flirting and convinces Dan to go home with him, where Tom ties him to a chair and tells him they've met before. After obtaining a blood sample, Tom lets Dan know that when that test comes back, if Dan is positive also, he's going to die. The film is based on an award winning play and I venture to say as a play, this would have been terrific. On the big screen however, the same raw emotion isn't as evident and the story doesn't have much in the way of variety. The 24th Day is very narrowly focused, and after it's initial abduction and reveal, it becomes quite boring, as both the men and the audience prepare for the ending. In transferring this story to film, I feel as though something more should have been added to story. Maybe some flashbacks or an unintended visitor, just something to break up the monotony. Both Scott Speedman and James Marsden are very good in their respect roles and I really enjoyed both the beginning and end of this film, unfortunately the middle is somewhat boring and takes away from an otherwise original and outstanding story.
Todd Smith
Super Reviewer
½
Decent acting, ugly story
The 24th Day Quotes
There are no approved quotes yet for this movie.