Alive
(2004)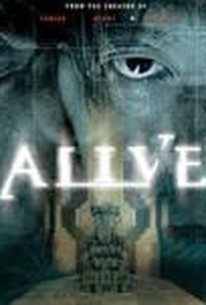 AUDIENCE SCORE
Critic Consensus: No consensus yet.
Critic Reviews for Alive
All Critics (4) | Fresh (0) | Rotten (4)
The future prison looks fantastic, the concept is rock solid, and yet in Ryuhei Kitamura's second feature, something goes wrong in the execution.
It's a shame that a small action film with such a talented cast and interesting set-up ends up being dragged down by excessive exposition and languid pacing
Audience Reviews for Alive
A massive disappointment considering this director did 'Versus', the zombie/martial arts hybrid. The characters are given a stay of execution so that they may participate in an odd experiment of selected isolation. The first two reels are interesting, but after 'The Witch' chapter, the movie quickly declines into boring territory. All of the investment in attempted character development is false and only adds to the bore. By the time the final fight comes around, which the segment is called 'Versus', I was just ready for the film to end. The settings and art direction are great, and the camerawork is mostly brilliant but too often reverts to lazy easy cut angles. It's tough for me to tell with foreign films, but the acting here does not seem always on point, with a few too many weak link B actors chiming in. Combine that with the B plot, and this movie starts out at a great cheesy deficit that it does not overcome OR celebrate. I've seen few films that so fully exemplify the phrase "untapped potential". You can watch at stagevu.com.
_kelly .King
Super Reviewer
VERSUS was a low-budget zombie/yakuza film meshing chaos and stylized action, Alive is a slightly bigger budget attempt at Cube-like tension and atmosphere. Unfortunately for Kitamura, while he may very well be the next John Woo when it comes to cool action, he needs a lot of work when it comes to creating tension and atmosphere out of very little. The thing about Alive is that it's full of untapped potential. Even the film's second half, which is filled with action, still managed to find long stretches where nothing happens, and people are either just sitting or standing around chatting about their past. In the end, I suppose Kitamura boxed himself in with the intention of testing himself, trying to prove that he can direct without resorting to fisticuffs every other second.
El Hombre Invisible
Super Reviewer
Most solid Kitamura flick so far. Is no sci/fi classic, but it manages to keep things interesting, the "matrix-esque" final battle do mess up things a bit. Hideo Sakaki shows that he has some acting range, maybe in a better film he could do more.
Tsubaki Sanjuro
Super Reviewer
Alive Quotes
There are no approved quotes yet for this movie.