Uncovered: The War on Iraq
(2004)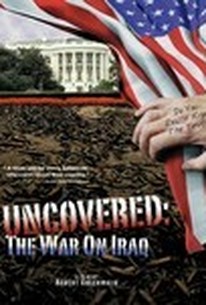 Movie Info
The updated version of this documentary -- takes you behind the walls of the U.S. government as CIA, Pentagon and Foreign Service experts address the government's reasons for launching the "preemptive" war on Iraq in 2003 -- includes new footage. Paired with this title is director David O. Russell's controversial antiwar documentary, Soldiers Pay.
Critic Reviews for Uncovered: The War on Iraq
Audience Reviews for Uncovered: The War on Iraq
You won't find anything particularly revelatory in this doc from Robert Greenwald about how the Bush administration orchestrated a war based on flimsy evidence. Seeing it all laid out again in detail provides a reminder of how grateful we all should be for having the likes of Bush out of office.
Manny Casillas
I just...I can't even say anything except... [size=7]HOW ARE 59 MILLION PEOPLE BE SO F[i]U[/i]CKING STUPID?!?!?![/size] [size=7][/size] Good documentary. B+:fresh:
Travis Hardy
Uncovered: The War on Iraq Quotes
There are no approved quotes yet for this movie.
Discussion Forum
Discuss Uncovered: The War on Iraq on our Movie forum!