Riverworld
(2003)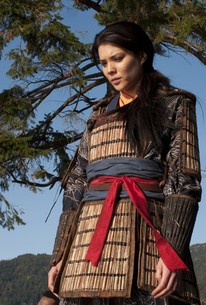 AUDIENCE SCORE
Critic Consensus: No consensus yet.
Movie Info
Adapted from a series of novels by science fiction icon Philip Jose Farmer, the made-for-cable Riverworld is set on a distant planet where famous historical characters are reincarnated in a young, attractive,and healthy form. After his death in a space accident, Earth astronaut Hale (Brad Johnson) is reborn on Riverworld, where, much to his amazement, he rubs shoulders with dozens of past celebrities, from Mark Twain to the Emperor Nero. Hale is told that anyone who has ever lived on Earth at any time in history is qualified to start life anew on Riverworld -- even if that person is a space alien who just happened to be Earthbound at the time of his demise. But before he can jump to the conclusion that Riverworld is the intergalactic version of Heaven, Hale quickly learns that all is not well in this faraway land. Greed, mistrust, and tribal warfare are the principal "industries" in Riverworld, with many of Earth's past villains (Nero, in particular) hoping to exploit their new lives in order to resume their wicked ways. Moreover, the residents are constantly monitored by a tribe of sinister, hooded figures who occasionally intervene in the action whenever they feel that things are getting out of control -- their control. Organizing a rebellion, Hale leads several other reincarnated souls on an arduous journey along the river that girdles the planet, hoping to learn the secret of Riverworld and convert its hellish aspects into something resembling paradise. Riverworld made its Sci-Fi Channel debut March 22, 2003.
Critic Reviews for Riverworld
There are no critic reviews yet for Riverworld. Keep checking Rotten Tomatoes for updates!
Audience Reviews for Riverworld
What a shame this was Kevin Smith's last movie. Kevin Smith from Hercules/Xena not Clerks and Silent Bob. He actually died on the set, some weird acident. Very sad, he will be MISSED.
FanGirl Browncoat
Super Reviewer
Riverworld Quotes
There are no approved quotes yet for this movie.