The Hillside Strangler
(2004)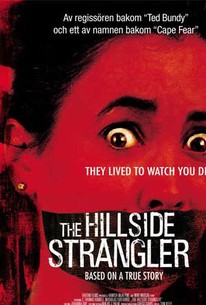 Movie Info
A real-life series of killings that held Los Angeles, CA, in the grip of fear during the late '70s provides the inspiration for this tense crime drama. Kenneth Bianchi (C. Thomas Howell) is a nebbishy security guard who lives with his mother in Rochester, NY, and dreams of becoming a police officer. After Bianchi's application to join the Rochester police is turned town, he takes his mother's advice and moves out to Glendale, CA, where she arranges for him to stay with his cousin, Angelo Buono (Nicholas Turturro), who works in auto repair. When he's unable to get a position with the Glendale Police Department, Bianchi steps outside the law and, claiming to have a degree in psychology and a license to practice, sets up shop as a counselor. While Bianchi never had much luck with women in Rochester, Buono gives him some advice and sets him up on a few dates; soon Bianchi has a string of girlfriends, though things become complicated when one of his steady girls, Claire Shelton (Allison Lange), becomes pregnant and moves in with him. As Bianchi becomes increasingly obsessed with sex, he and his cousin join forces to set up a prostitution ring, which quickly earns them the enmity of a group of career criminals. When Bianchi and Buono discover that they have been double crossed by one of the hookers in their stable, the two men rape and murder the woman in the back of a car; Bianchi discovers he enjoys the thrill of killing, and soon he and Buono begin committing a string of sexually tinged murders throughout the Los Angeles area, with the press soon dubbing the culprit "The Hillside Strangler." The Hillside Strangler was one of two identically titled films based on the same true story that were released in 2004; the other was directed by Chris Fisher and starred Clifton Collins Jr. and Tomas Arana as Bianchi and Buono.
Rating:
R (for psychopathic violence, strong sexuality, nudity, pervasive language, sexual dialogue and drug use)
Genre:
,
Directed By:
Written By:
In Theaters:
On DVD:
Runtime:
Studio:
Silver Nitrate Productions
Critic Reviews for The Hillside Strangler
Audience Reviews for The Hillside Strangler
½
I thought this movie was done right! It is especially good if you know the true story. The acting was way above average and contains strong violent moments that are sometimes hard to watch. Check out the creepy song during the end credits by Earthlings!
Darrin Craig
A sometimes hard to watch film which maintains a lurid, gloating tone, The Hillside Strangler certainly isn't Henry: Portrait of a Serial Killer. There's no real insight here, no depth; the film exists simply to shock as much as possible, but without much success. For instance, the constant use of the word 'cunt', seemingly every five minutes, just becomes wearying and downright depressing. The way that sex, or as is often the case, rape, is equated with brutal violence (Kenneth confesses he almost came in his pants during his first murder), isn't handled with any real subtlety. Chuck Parello is presumably attempting to show the reality of the events so it's odd that although the sexual elements are quite explicit the actual violence itself is almost entirely off screen. Good performances from C. Thomas Howell (who hasn't aged at all well from his Hitcher days) and Nicholas Turturro, and the occasional inspired moment - such as a scene shot in false perceptive or one overlaid with superimposition - keep things interesting. The most interesting moment in the film is undoubtedly the dinner scene with Kenneth, Angelo and Angelo's mother - a genuinely shocking and illuminating moment in a film which has precious few.
Daniel Parsons
Super Reviewer
½
It?s hard to believe from watching this film that this is the same actor, who warmed our hearts as Ponyboy Curtis in ?The Outsiders?. A much more realistic look into the murders committed by serial killer cousins; Ken Bianchi and Antonio Buono , known infamously during the period of investigation as ?The Hillside Strangler?. Perhaps the most explicit of the true crime serial killer films as sex was very significant to the pair before and during their reign of terror.
Lady D'arbanville
Super Reviewer
The Hillside Strangler Quotes
There are no approved quotes yet for this movie.