Shiner
(2004)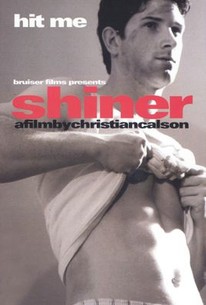 AUDIENCE SCORE
Critic Consensus: No consensus yet.
Movie Info
Violence leads to eroticism in Christian Calson's offbeat drama that proves love can come in the most unexpected -- and painful -- of forms. Snaking through the city streets under the cloak of darkness to stalk their victims, lifelong pals Tony and Danny get sexual gratification by beating up homosexuals and then each other. Despite being on the rebound from a failed relationship, Tony's roommate Elaine also discovers that violence can be a gratifying form of intimacy when a one-night stand turns violent and the physical pain takes her to a new level of sensuality. Meanwhile at a nearby gym, timid homosexual fitness center attendant Bob begins stalking hunky boxer Tim. When Tim discovers that he is being watched, the attention turns him on and he boldly turns the tables on his stalker.
Rating:
NR
Genre:
, ,
Directed By:
Written By:
In Theaters:
On DVD:
Runtime:
Critic Reviews for Shiner
There are no critic reviews yet for Shiner. Keep checking Rotten Tomatoes for updates!
Audience Reviews for Shiner
The first five minutes of [i]Shiner[/i], I was prepared for the worst. It's shot on video, and not great looking video at that, and the first scene, in which two guys pick up a third at what seems to be a gay bar (apparently it's not) and then gay-bashes him in the alley after talking him into blowing them, wasn't exactly original. The filmmaking seemed slipshod, with far too many cuts, most likely due to the lack of coverage getting shot. Eventually, though, it won me over despite its' many flaws. A strange assemblege of three loosely-connected storylines, Shiner is a much more twisted film than it first looks, and while the obvious subtext (Hey, guess what! The guy that gay-bashes secretly fantisizes about other guys!) gets delved into with a bit more depth than you'd expect. Danny and Tony are the gay-bashing pals at the beginning, and their strange relationship amounts to the first storyline. The two often have extended wrestling matches that descend into Danny beating the crap out of Tony, a sensation Tony secretly jerks off to. The pair spend the film denying any sexual implications to their pummel-fests, but the climax, in which the guy they bashed at the beginning comes back, gets things a little more out in the open. The second plotline follows a friend of theirs, Tim, and his relationship with a socially awkward stalker, Bob. At first, this subplot didn't seem the least bit convincing--Tim's just an asshole, and Bob is such an oddball he borders on retarded. By the end, though, during an extended climax in Bob's kitchen, I'd become fascinated by their bizarre sort of bond, and compelled to know how things went from there. The third segment, involving Tony's rommate Linda and her boyfriend, is such a non-entity that it doesn't even seem to belong in the film, and distracts from the two more interesting ones. Writer/Director Christian Calson directs the plentiful blood flying around with glee, even if the bruises aren't exactly convincing. (When lit for video, it just looks like pink crayons were scrawled across the actors' chests.) Comparisons to [i]Fight Club[/i] are easy, but it's an entirely different subtext at work here, and the only real thing the two films have in common is the combination of homoeroticism and blood-splatterring brawling. It's a very flawed film, with a low-budget look, music and editing style (the acting, it has to be mentioned, is pretty good), but it's certainly compelling enough if you give it a chance. I'd certainly be interested to see what Calson does with a larger budget--he may have a grimy masterpiece in him yet. (I'm certainly willing to say when a film uses hardcore footage gratuitously, like its' unnecessary and obviously fake bits in [i]Thriller: A Cruel Picture[/i], but [i]Shiner[/i] may be the first film I've seen that could actually have benefited by biting the bullet and going all-out for its' sex scenes. With the intensity of the plot, it sometimes seems like it's pulling its' punches, and hardcore footage would have worked perfectly well in the context and look of things. Since none of the sex scenes are meant to be erotic, it wouldn't be classified as "porn," just a terribly explicit psychodrama.)
Paul Freitag
½
WHAT A SICK MOVIE. IT'S COMPLETE BIZARRE SUBJECT MATTER HAS A FASCINATING SIDE. BUT THE ULTRA CHEAP PRODUCTION DOESN'T HELP. AND THE ACTING IS POOR
James Higgins
Shiner Quotes
There are no approved quotes yet for this movie.