The Ghosts of Edendale
(2003)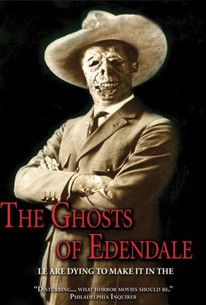 The Ghosts of Edendale Photos
Movie Info
A struggling couple's dreams of making it big in showbiz turn into nightmares when they move into a house with a horrifying history in this shocker from The Last Broadcast co-creator Stefan Avalos. Kevin and Rachel both have high hopes for the future, and now that they've decided to move to Los Angeles, it seems that all of their wildest fantasies are finally about to come true. Though their dream house in Edendale lies just minutes from the glitz and glamour of Hollywood, everything is not as it seems in the quaint little town where everyone is in "the business," and Kevin and Rachel are about to get a terrifying history lesson. As Rachel begins to feel her sanity slipping and Kevin takes on an entirely new personality while trying to finish his defining work, it's up to Rachel to overcome her fears and snap Kevin out of his spell before he loses his soul to the Ghosts of Edendale.
Critic Reviews for The Ghosts of Edendale
All Critics (5) | Fresh (4) | Rotten (1) | DVD (3)
Low budget scares - low rent script - high return on your investment.

Perhaps his biggest feat is in getting Warner Brothers to acquire this film for DVD distribution

Using an absorbing mixture of historical fact and supernatural fiction, The Ghosts of Edendale is a creepy and effective spook show.
Audience Reviews for The Ghosts of Edendale
It's awful. The acting is bad. At least in some movies you get to see a bit of skin, but the brunette doesn't really show enough for that to be a saving grace. I got the movie for free, and I want my money back.
½
A couple with dreams of making it in the movie business move from New York to what turns out to be one of the oldest film making neighborhoods in Los Angeles only to discover that the old residents have not quite moved on yet. Like many ghost stories this effort offers a great setup ... but a dismal payoff. Too bad.
Kevin M. Williams
Super Reviewer
After Rachel (Ficara) a successful and sought-after photo model suffers a nervous breakdown, she moves with her writer boyfriend (Wastell) to Hollywood to make a fresh start in a different part of the entertainment industry. They move into a house in a neighborhood built on the land once owned by silent movie star Tom Mix, and, while they are initially delighted to be so close to Hollywood's history, Rachel soon discovers that history isn't completely in the past. Is she really seeing ghosts, and is her boyfriend really turning into Tom Mix, or is she finally going completely crazy? "The Ghosts of Edendale" is a ghost movie that incorporates real-world history and stereotypes about life in the Hollywood movie business to create a film that spends all of its time in very familiar territory but which is still very creepy. There no terrifying moments in the film, and only a small handful of truly scary ones, but the sense of dread it evokes is one that will stay with you even as the end credits start to role. It's a sense of dread that even manages to elevate a somewhat weak ending. Most of the credit for the success fo this film goes to the superior acting talents shown by stars Paula Ficara and Stephen Wastell. Ficara's mostly understated performance as a woman questioning her own sanity when she starts seeing the ghosts of Old Mixville throughout her house and the neighborhood, and Wastell's transformation from a cheerful, supportive lover to a fame-obsessed asshole possessed by the ghost of a long-dead silent movie star is very effective in the way it starts out somewhat subtle and builds to the point where the viewer believes and shares Rachel's fear of him. The script is so-so and the characters these actors portray are strictly ghost movie stock figures, but they bring them to full and realized life as the film unfolds. The one slightly mystifying thing about "The Ghosts of Edendale is why writer/director Stefan Avalos chose to rewrite Hollywood history for his movie and cast the restless ghost of silent movie star Tom Mix as main villain. I'm no expert, but as far as I know, Tom Mix wasn't particularly obsessed with Hollywood. While it's true he died in a freak car accident while speeding through Arizona on his way to sign a movie contract, his career wasn't ruined because of the advent of sound--in fact, his last movie was a huge hit for the studio that made it--but he rather chose to step away from film because of his own advancing age. Mix doesn't seem to have any sort of unfinished business as is implied in this film. So, in this case, a little knowledge was a dangerous thing, beause it got in the way of my enjoyment of the film. I suppose few people would even be aware of the historical errors, because, as a character in the film says, the early days of Hollywood and the silent movie era are mostly forgotten by all. (And, I admit, there are probably lots of things I don't know about Tom Mix.) Despite my wondering about the wisdom of taking real history and messing with it in a completely illogical fashion, "The Ghosts of Edendale" is a nicely done and well-acted ghost movie. It's worth checking out if you enjoy movies that are more about atmosphere than splashy effects. ([URL=http://www.amazon.com/gp/product/B0002TT0OG?ie=UTF8&tag=stevemillesdo-20&linkCode=as2&camp=1789&creative=390957&creativeASIN=B0002TT0OG]Click here[/URL] to read other opinions of this film, or to buy a copy of it at Amazon.com.) The Ghosts of Edendale Starring: Paula Ficara and Stephen Wastell Director: Stefan Avalos
Steve Miller
The Ghosts of Edendale Quotes
There are no approved quotes yet for this movie.
Discussion Forum
Discuss The Ghosts of Edendale on our Movie forum!