Bonjour Monsieur Shlomi
(2004)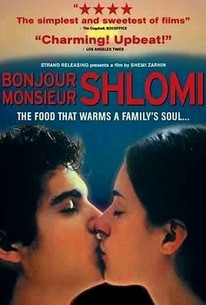 Bonjour Monsieur Shlomi Photos
Movie Info
A teenager discovers he may be a genius, which turns out to be a less-than-welcome surprise to his family, in this comedy-drama from Israel. Shlomi (Oshri Cohen) is a 17-year-old boy who has unwittingly become the most important member of his household -- with his mildly-paranoid father (Albert Illouz) divorced from his mother (Esti Zakhem), busy supporting the family as a nurse. Shlomi cheerfully looks after his aging grandfather, cooks the meals, keeps tabs on his brother, Doron (Jonathan Rozen), and tries to keep the house clean. With so much going on, Shlomi doesn't have much time for (or interest in) his schoolwork, and he's more preoccupied with his girlfriend Tehila (Rotem Zisman) and his efforts to move their relationship to the next level; however, Shlomi's math teacher (Nisso Khavia) discovers that Shlomi has a rare gift for working with numbers and is eager to transfer him to another school where he can hone this talent. But Shlomi's family resists the idea, partly because they're not sure if he can do the work and partly because they don't want to see the family's anchor go away.
Critic Reviews for Bonjour Monsieur Shlomi
Audience Reviews for Bonjour Monsieur Shlomi
½
Bonjour Monsieur Shlomi is a tender, sweet coming of age story about a boy, ignored by his classmates, taken for granted by his family, and dismissed by his teachers. The only person who sees him for who he is is his paternal grandfather, but Grandpa has bouts of lunacy that make that recognition of little value. Terrific character development drives this story and there were moments of subtle humor that kept the viewer engaged. When Shlomi (Oshri Cohen) comes to the attention of his school headmaster (Yigal Naor) and falls in love the the girl next door, Rona (Aya Steinovits), his luck and his life begin to change. This is not your typical teenage sex romp. It is a talented young kid finding out that his life has infinite possibilities that he never believed would be available to him. It is about the people around him learning new respect for the kid who seemed invisible. And it is about growing up, no matter how old you are. One minor quibble with a dream sequence that was inserted that seemed out of place with the rest of the film kept this from the top rating, but a really good, heartwarming story.
Mark Abell
Super Reviewer
Bonjour Monsieur Shlomi Quotes
There are no approved quotes yet for this movie.