King Solomon's Mines
(2004)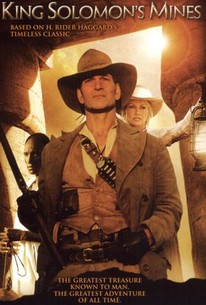 AUDIENCE SCORE
Critic Consensus: No consensus yet.
King Solomon's Mines Videos
King Solomon's Mines Photos
Movie Info
This four-hour cable miniseries adaptation of H. Rider Haggard's classic adventure novel King Solomon's Mines dispenses with much of the original story in favor of a standard Indiana Jones-esque melodrama, complete with claim-jumping villains, snarling Russian soldiers, an ancient and deadly curse, and a damsel perpetually in distress. As played by Patrick Swayze, Haggard's hero, celebrated British safari hunter Allan Quartermain, is a born-again conservationist who returns to his former trade only to raise enough money to retain custody of his beloved son. Quatermaine accepts the assignment given him by toothsome Elizabeth Maitland (Alison Doody), to head into darkest Africa in order to rescue Elizabeth's father (John Standing), who had disappeared while searching for the fabled lost gold mines of King Solomon. This time around, the mines harbor another elusive treasure: the mysterious Stone of Power, which functions in much the same manner as the Ark of the Covenant the Indiana Jones pictures. Along for the ride are Quatermain's trusted friend Sir Henry (Ian Roberts), and loyal African guide Umbopa (Sideda Onylulo), who has traditionally been the story's most likeable and admirable character in all previous film and TV adaptations of the novel. The main villain, largely spun from whole cloth for the purposes of the miniseries, is Quatermain's greedy ex-partner Gavin Hood (Bruce McNabb). Debuting June 6, 2004, the two-part King Solomon's Mines posted some of the Hallmark channel's best-ever ratings.
Critic Reviews for King Solomon's Mines
There are no critic reviews yet for King Solomon's Mines. Keep checking Rotten Tomatoes for updates!
Audience Reviews for King Solomon's Mines
½
A rather long, 3 hour, movie made for TV by Hallmark. I tend to give this a C to a B grade. Helped by the "Gladiator" like soundtrack and somewhat similar cinematography it moves along pretty well. The movie "Gladiator"-like fight to the death near the end with Swayze and his tribal opponent is laughable as it isn't much of a match and in reality wouldn't have happened, but hey, Swayze has more lives than a cat as do his enemies and the fake russian dialects get tiresome. Finding Soloman's Mine with the ear rings adorned daughter (Doody) forever alongside and spears coming out of the floor pretty much forshadow the final conflict. Pretty typical Hallmark Hall of Fame story, except with considerable violence (shooting of elephants in the begining and escalates to men shooting each other frequently but seriously poor shots, spears into chests). These people are in hot climates, even lots of desert scenes, never sweat even though over dressed in Victorian costuming and lots of gear. They seldom sleep, drink or eat while on foot through plains, desert and mountainous regions. Patrick Swayze does a pretty fair job of being the lead actor. An experienced guide in Africa, he is not an insensive person and practical (esp. about the shooting of elephants who can get pretty revengeful he warns). He is reluctantly returning to Afica to lead a daughter of a professor to save him near fabled King Solomon's mines. But the primary mission of finding the professor being held captive by a tribe gets lost in the shuffle as protecting the prized map to the mines takes priority. After a final shootout between the Russians sent to steal the map, and several deaths along the way, a decent relationship between the lead actress (Doody) and Swayze evolves, especially at the end where he shows interest in her. That relationship was not really cultivated in the film much. There's more mumbo jumbo sometimes in this film than the African dialect shown in subtitle. A bullet being plucked out by hand, the usual obligatory tribal dancing by restless natives, the saving of the professor at the last second by Swayze's gunfire shots in the air, a fight to the death to determine the tribe's king.... all pretty lame stuff. But the map the professor sent to the daughter overseas is a never ending source of grief for the expedition. The Czar's financing of the professor's work leads to his sending russian military types to seek the map and they attack and follow the expedition through the film. There are more than a few shortcuts toward the end which are pretty obvious. Worth watching once, possibly, but not twice, at least for me. Swayze fans will no doubt like him in the film..
monsieur rick
½
KING SOLOMON'S MINES Fairly good movie but somewhat lack-luster although it has its moments. This film is reminiscent of the Indiana Jones movies by which it is greatly overshadowed. Nonetheless, it is an interesting story line loosely based upon the novel by H. Rider Haggard and his character, Alan Quatermain. Patrick Swayze is believable in this leading role and seemed to have a genuine feel for it. On the whole the film features decent acting performances although at times the plot seems a little too pat and dry as if the actors were merely going through the motions. For example, tribal gatherings are uber-choreographed and come across as simply unnatural. On the other hand, realistic stunt work especially in Patrick Swayze's one-on-one fight scenes, make the plot work out fine. Impressive cinematography of South Africa's native wildlife, varied terrain, and colorful landscape, i.e. rolling mountain vistas, sandy and parched desert areas, and sweeping savannah.
Ann Lorraine
½
Rented this because it stars Swayze as Allan Quatermain, and decided it'd be a nice tribute to him. He's absolutely game here, and the movie surrounding him doesn't bite the big. Not to say it's the best thing ever, but it's better made and more interesting than I would have guessed.
Bobby LePire
King Solomon's Mines Quotes
There are no approved quotes yet for this movie.
Discussion Forum
Discuss King Solomon's Mines on our Movie forum!