It's Easier for a Camel...
(2004)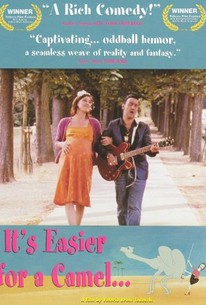 It's Easier for a Camel... Photos
Movie Info
As a little girl, Federica fantasized about having beautiful long hair that would grow back as soon as she cut it, about never-ending cones of cotton candy and about countless adventures that took her to the far side of the world. Now a charming thirty-something-single woman, Federica's fantasies have evolved, adding lovers, stardom, and motherhood to her waking dreams, where Federica continues to press for her everyday life to be as real as the fantasies that invade her. Unfortunately, Federica's daydreams can only provide a meager distraction from the reality she faces. Her career as a successful playwright is heading south, her boyfriend is pressuring her to start a family, a former lover wishes to rekindle an old affair, her sister is barely talking to her, her brother is self-centered and her loving father is terminally ill. And as if to make matters worse, Federica is rich, too rich, and the guilt that consumes her because of it is pushing her over the edge. As Federica struggles to find meaning in her life, she wrestles with her feelings about death and responsibility. She alleviates the added weight of the haunting guilt that her wealth derives through her vivid imagination, where her reality grows wonderful and, if only fleetingly, gives her the sense that all is perfect in her world.
Critic Reviews for It's Easier for a Camel...
Audience Reviews for It's Easier for a Camel...
(** 1/2): [img]http://images.rottentomatoes.com/images/user/icons/icon13.gif[/img] A strange film and with a good cast. But, my main problem with it is this: what was the point of the whole thing? A near-miss.
TTT C
1/2 a star extra for the camel animation at the beginning. the rest of the movie is well-acted but draggy.
Aaron Chuah
It's long and boring. It has a few moments, but it skips around a little and adds little scenes that seem to not play a significant role. It'a about a women, probably in her mid-30's, who is filthy rich, but feels guilty about it. This may explain why she has a poor boyfriend. Their relationship seems mostly terrible and she even considers having a kid with him to hopefully spice things up. Then there are side-stories with her family, especially with her younger sister. Don't bother with this movie. It's hard to feel sorry for the main character as the movie doesn't focus on her guilt or why she feels guilty. Instead, it works around that notion. (Tonight was a bad night. I also ended up with "The Big Easy".)
Ken Matsuyama
It's Easier for a Camel... Quotes
There are no approved quotes yet for this movie.
Discussion Forum
Discuss It's Easier for a Camel... on our Movie forum!