Candide
(2003)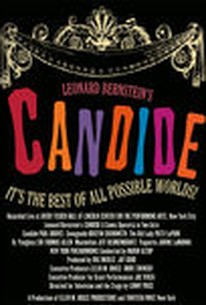 AUDIENCE SCORE
Critic Consensus: No consensus yet.
Movie Info
Rating:
NR
Genre:
,
Directed By:
In Theaters:
On DVD:
Runtime:
Critic Reviews for Candide
All Critics (1) | Fresh (1) | Rotten (0)
A half century later, Bernstein's brave attempt at mixing classical with commercial still has issues. Thankfully, they have nothing to do with the marvelous music here.

Audience Reviews for Candide
½
I don't quite know what to say about it. I was genuinely moved by the ending. I absolutely hated the comical treatment of rape, and I nearly stopped watching it. The cast is excellent, and the music and performances are top flight. So I'm really torn here. I don't get Voltaire in this story. Here's a man who dedicated himself to changing the world for the better, and when he gets to the subject of rape and its consequences he cops out. He could have done much better than this. He knew Madame Pompadour. A man with his level of curiosity about everything, who wanted to write a definitive satire on how this was not "the best of all possible worlds" could have spent at least a similar amount of time on rape and its consequences as he did on the devastation of slavery and natural disasters. I still love his other writings, though.
Morris Nelms
Super Reviewer
Further Things I Ought to Get Around to Reading Theatre There appear to be more versions of this operetta than just about any other stage show I've read about. There seem to be more versions of this operetta than there are of certain movies which are famous for the number of edits they've undergone. There are more versions of [i]Candide[/i] than there are of [i]Blade Runner[/i] or [i]Apocalypse Now[/i], is what I'm saying. They are varying degrees of faithful to the original Voltaire novel. Musical numbers come and go. There's a frequently performed version which is one act; this version isn't that one, because the DVD very clearly lets you choose act one or act two. Some of the reason for this seems to involve disputes among the various people involved in these productions. Lillian Hellman didn't want her work altered and refused permission to include it, so another book was written. And then some people didn't like that book, so there was another one. And so forth. Candide (Paul Groves) is a bright, cheerful lad, for all he is a bastard. He is the fostered nephew of Baron Thunder-ten-Tronck (Michael McCormick). The Baron and Baroness (Gina Ferrall) have a son, Maximillian (Jeff Blumenkrantz), and daughter, Cunegonde (Kristin Chenoweth). They are tutored by Doctor Pangloss (Thomas Allen), who repeatedly assures them that everything is for the best in this, the best of all possible worlds. And then, things start to go horribly wrong. Their home of Westphalia is invaded, and Candide believes essentially the entire cast to be murdered. He wanders the world, repeatedly finding and losing Cunegonde and the others. Cundgonde ends up in the care of the Old Lady (Patti LuPone), and they all wander the world, from Westphalia to Paris to the misspelled Montevideo to Suriname to Constantinople and so forth. Cunegonde is repeatedly defiled, and they all have a hard time believing things really are for the best and this the best of all possible worlds. To be honest, I'm a bit tired of this kind of production--the one where there are no sets and few costumes. The choir is wearing neutral T-shirts, for heaven's sake. Now, it's not easy to stage [i]Candide[/i] properly, I suspect, because there are a lot of sets. Everything from Schloss Thunder-ten-Tronck to El Dorado. Battlefields and casinos. It can't be easy for them. However, it seems to me as though everyone is interested in bare stages and so forth these days. I suppose, too, that musicals are expensive to stage. More so than plays. There's more risk involved, even if it's an established property. It must be tempting to reduce costs wherever possible. However, I suspect this merely adds to the feedback loop of people who claim that they don't like musicals. Are they better when, for example, you eliminate the orchestra and make the actors play instruments? Are they better when Cunegonde wears the same dress the whole way through? That being said, I have no problems with the decision (made, as far as I can tell, in the original) to double some of the roles. I'm amused by the guy with the shirt that says "Alternate Narrator" who comes on when Thomas Allen ducks out to go play Doctor Pangloss. Doubling roles is an old, fine theatrical tradition; a period-accurate production of Shakespeare would involve doubling roles. Here, it also seems to serve as a counterpoint to all the characters who just keep coming back from the dead. (To the point where they don't even bother explaining how it's possible by the end.) Does that priest look familiar? He ought; he was an archbishop not long ago. And, of course, most of the doubling is done with similar characters. The priest/archbishop is also one of the "heresy agents" in the Spanish Inquisition sequence. There are recurring themes in Candide's life; why wouldn't they be paired with strangely familiar people? And if Maximillian can come back from the dead, why not an archbishop? Really, I should have read [i]Candide[/i] in college. I had access to an excellent library, and it would have been appropriate for my banned books contract. The Vatican banned it three years after its publication, after all, and it was seized by customs officials in Boston in 1929. It was declared obscene, and of course it doesn't have exclusively positive things to say about the Catholic Church. It's short enough, too; certainly I read far, far longer books that quarter. However, I was mostly focusing on more recent books, books banned in the public schools and libraries within twenty or thirty years of my contract. Even just that focus still left me reading well over a hundred books, and there were plenty of books I made a choice not to read. If things truly were for the best in this, the best of all possible worlds, I would have had to have found something else to study that quarter, because people wouldn't be so crazy about preventing their children from reading books.
Edith Nelson
Kristin Chenoweth steals the show! I adore her. The cast is so talented. A wonderful and entertaining musical performance!
Melissa Bedford
Candide Quotes
There are no approved quotes yet for this movie.