Seance
(2000)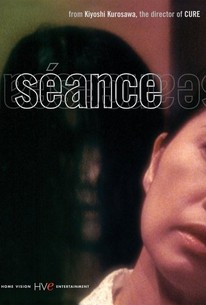 Movie Info
A psychic housewife and her husband become burdened with a kidnapped girl who escaped her assailant. Junko will not let her husband call the hospital or the police for purely selfish reasons. The girl dies while still in their house and her ghost begins to haunt not only Junko but also her husband, Sato (Koji Yakusho).
Critic Reviews for Seance
Audience Reviews for Seance
Slow, plodding, bland drama with a couple coffee spillers thrown it. Uneven with plot holes (beating a ghost with a stick?), the film comes to an unexpected halt (I think they ran out of film and decided to go with what they had). Don't expect much and you wont be disappointed.
½
Seance doesn't work as well as Pulse, another one of Kiyoshi Kurosawa's movies, because there's no real foundation for the slow-burn atmosphere. Pulse featured a plot about isolation, so the film felt appropriately lonely and claustrophobic. Seance feels like it's being slow for the hell of it. Still, I love Kurosawa's style. It's distinctive, beautiful, wildly evocative and allows an audience to use their imaginations. The plot of this movie did seem a little more coherent than Pulse at times, and I loved the characters. Jun Fubuki gives a great, psychologically charged performance as a psychic woman who's sick of living in the spotlight of her successful husband, a performance that ultimately carries the plot of the entire movie. This one will try your patience, but be good to it - it has a lot to give.
Drew Smith
Super Reviewer
Seance Quotes
There are no approved quotes yet for this movie.