Devour
(2005)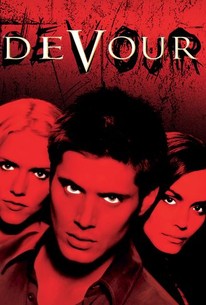 Movie Info
Make-believe murder becomes all too real in this high-tech tale of terror. Jake Cummings (Jensen Ackles) is a stressed-out college student and computer technician who gets an unusual birthday present from one of his best friends -- an interactive video game called "The Pathway," which allows players to take part even when they aren't at their monitors. However, the nightmarish visions of the game begin haunting Jake's dreams and then taking over his waking hours as the violence of "The Pathway" stops being play and starts becoming reality. Has the game become possessed by malevolent spirits? And how can it be stopped? Devour also stars Dominique Swain and Shannyn Sossamon.
Critic Reviews for Devour
Audience Reviews for Devour
½
Surprisingly good for a low budget film, a computer geek found a game that plays in reality and people around him are slowly dying. It wasn't scary at all and there were some inconsistency, but it had some nice imagery and OK acting.
Sylvester Kuo
Super Reviewer
Here we go. This is how I like my bad movies: stupid, fun, pretty and with a silly story that's at least half-way cohesive. It's worth it just to see Dean Winchester with blood all over his chin. Hawt. It seems to me that this script was built around eight halfway clever exchanges of dialogue, which clash with the rest of the movie hard enough that you'll be able to pick them right out. The story logic is a little fuzzy in a lot of places, but you can tell that the writers, while not talented, care about continuity. I actually quite liked this movie; Dominique Swain and William Sadler give respectable performances, and Jensen Ackles is always a pleasure to watch. I think this story tries to be a little too ambitious, and the movie throws too many elements in there without using them all. In fact, it ends up throwing away its own core element: the video game The Pathway. You could make three efficient movies with story wasted in this one, which comes off as a little jumbled. Still, this movie is most enjoyable. Maybe I just have a soft spot for movies with revenge fantasies , satanic cults and 90s industrial crud on the soundtrack.
Emily Armstrong
Super Reviewer
½
What this movie is a trip. It's like Dean the early years before Sammy started tagging along. A very supernatural style script. It is twisted and not what you would expect. Jensen plays the normal guy that gets sucked into an extraordinary situation. Not a lot to say that doesn't give stuff away or is different from the synapisis. I think it is one of those movies that's a thriller and off the beaten path. Kind of horror-esque but not exactly "scary". This could be because I don't find films scary but it was still a trip. If you like films like The Ninth Gate then you should like this. Also if you are a Jensen Ackles fan then you will like this. Better than the remake of"My Bloody Valentine" by leaps and bounds. In fact I found this movie because I looked up Jensen to see what he has been in.
Aurelius Duchtius
Super Reviewer
Devour Quotes
There are no approved quotes yet for this movie.