Submerged
(2004)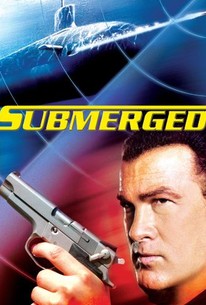 AUDIENCE SCORE
Critic Consensus: No consensus yet.
Movie Info
A skilled soldier of fortune discovers a force more dangerous than any he's encountered in this action thriller. Chris Cody (Steven Seagal) is a top-ranked mercenary who took part in an undercover operation to scuttle a major terrorist strike on U.S. soil. However, Cody had to break a number of laws in order to do the job, and he's residing in a military prison when he's given an offer by the United States government. Cody and his crew will have their sentenced commuted and receive 100,000 dollars each if they can capture a notorious terrorist who has kidnapped five American soldiers and bring them home. Cody agrees, but he soon learns that there's more to the five soldiers than he's been led to believe -- they're actually the products of a secret C.I.A. experiment in mind control, and have been programmed to become ruthless killing machines with the right commands.
Rating:
R (violence)
Genre:
Directed By:
Written By:
In Theaters:
On DVD:
Runtime:
Studio:
Sony Pictures Home Entertainment
Critic Reviews for Submerged
All Critics (2) | Fresh (0) | Rotten (2) | DVD (2)

So awful and incompetently made that I shut it off halfway through. The kind of straight-to-DVD Grade-Z junk that epitomizes Seagal's career in recent years.
Audience Reviews for Submerged
First I don't really understand why this is called what it is called, and why the synopsis on the DVD says what it says. In fact the submarine sequences last for about 10 minutes if that. Even for a Seagal film that's bad. Second the story is ridiculous. Now I love Seagal's films so I'm used to ridiculous, but this I think takes the cake. Brain control, and plenty of other things that just don't make sense. I could have tolerated this movie for the fact that Vinnie Jones and Seagal are in it. However, there are very few Seagal moments. When he started kicking butt, I was entertained. Otherwise I just didn't find anything nice about this movie. Keep in mind this is coming from someone who absolutely loves corny action movies.
Dutch Vandar
½
Not all bad, especially with the ideal casting of legit badass Vinnie Jones in it. The story and fight scenes are pretty good in this, making it worth a viewing. I can't stress enough how supremely bad Vinnie is. He beats guys to death with his bare hands and has the best lines in this thing.
Derek Daniels
Super Reviewer
½
this is nto one of his better one but i can still rate it pretty high cause he made some kick ass moves in this one
Beverly hawley
Submerged Quotes
There are no approved quotes yet for this movie.
Discussion Forum
Discuss Submerged on our Movie forum!