Pure
(2005)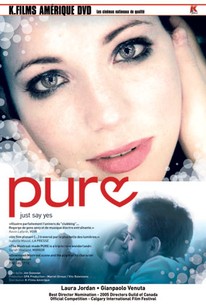 Movie Info
When class registration doesn't quite go as planned, a disheartened Misha sets her sights on Sam. Josh's feelings for her spin out of control. Misha unwittingly finds herself having to choose in life, love and destiny. Can she follow her heart and choose what's best for her?
People Who Like this movie also like
Audience Reviews for Pure
[font=Century Gothic]"Pure" takes place following the death of Paul's father, making ten-year old Paul(Harry Eden) the man of the house, as his distraught mother(Molly Parker) has been seduced by Lenny(David Wenham), a drug dealer, and the narcotic allure of heroin. After the death of a family friend, Vicki(Marsha Thomason), she vows to go cold turkey in an attempt to kick the addiction for the sake of her family.[/font] [font=Century Gothic][/font] [font=Century Gothic]"Pure" is an occasionally harrowing tale of addiction with an ending that is simply too pat, told from a child's point of view while at the same time not making the children emotional hostages. Here, drug dealers are portrayed as vampires preying on the weaknesses of others. Overall, the movie only rises above the ordinary due to Molly Parker's emotionally exacting performance.[/font]
Pure Quotes
There are no approved quotes yet for this movie.