The Sisterhood
(2004)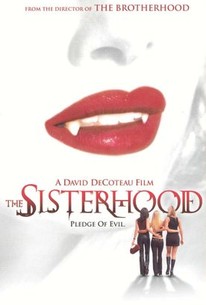 AUDIENCE SCORE
Critic Consensus: No consensus yet.
Movie Info
Two coeds discover a hot sorority house is hiding a sinister secret in this horror story. Christine (Jennifer Holland) and Reagan (Kate Plec) are a pair of young women who get to know each other when they end up sharing a dorm room in college. Christine is a studious type who is still getting over a family tragedy, while Reagan never lets her classes get in the way of a good time. Convinced Christine needs to get out more, Reagan persuades her to tag along as she attends a wild party at the Beta Alpha Tau sorority house. Both Christine and Reagan are impressed with the BAT house, and in particular, chapter president Devin (Michelle Borth), and they are soon invited to join. However, Ms. Masters (Barbara Crampton), who teaches a class on the paranormal, believes that the BAT house is the center of supernatural activity on campus, and urges Christine to inform her of the goings-on at the house. It isn't long before Christine finds out that Ms. Masters' fears were based in fact, but can she tear herself away from the decadent pleasures sorority life has brought to her? The Sisterhood was directed by David DeCoteau, who also made the similarly themed The Brotherhood.
Rating:
R
Genre:
Directed By:
Written By:
In Theaters:
On DVD:
Runtime:
Studio:
Regent Entertainment
Critic Reviews for The Sisterhood
All Critics (1) | Fresh (0) | Rotten (1)
If anyone can tell me who this movie was made for, aside from DVD critics with no life and immediate relations of the cast members, I'd love to know who it might be.

Audience Reviews for The Sisterhood
Well, after all the super-dramatic Oscar movies, I decided to mix things up a bit with a comedy, an action/drama, a bad horror film and a western. Some of which also turned out to be super-dramatic, but in a good way. I wanted to check out The Baxter because I have been a fan of Michael Showalter ("Reno 911") since he stared in the sketch comedy "The State" on MTV many years ago. He wrote Wet Hot American Summer, one of my favorite parody films. And so, I had high hopes for this sort-of romantic comedy. He also wrote this film, his directorial debut, and it has some of the laugh-out-loudedness as WHAS, but not as much. The plot follows this really dorky guy, Showalter, as he bumbles into a relationship and how things then go awry. The acting is pretty good. I didn't even mind Michelle Williams ("Brokeback Mountain") that much. And a bunch of The State guys pop up. But this comedy was just a bit lacking. So, if it's on TV, or you've got a free rental, check it out. Heat is one of those modern-day classics that I've always meant to check out. I mean Pacino vs. De Niro? What took me so long? Al Pacino ("Two for the Money") plays the cop trying to catch Robert De Niro ("The Good Shepherd")'s thief. The film is full of heavy weight actors and director Michael Mann ("Miami Vice") starts us out strong with a armored car hijacking, then brings it back down with some character development. And then speeds it back up with what my husband calls the best shoot-out of all time. And it is pretty spectacular. Then the coffee house scene where Pacino and De Niro just talk, face to face. Fascinating. It also sparked a debate between my husband and myself over who is the better actor. I'm on the Pacino side. He's for De Niro. It's a face off. Anyway, if you've been putting this off, wait no longer. It is truly classic. Then, The Sisterhood. Wow. When I go bad, I go bad. Director David DeCoteau ("Witches of the Caribbean") has a long, long list of horror films on his imdb bio. Many of which are direct to video. Just like The Sisterhood. This movie is just a mess of soft-core lesbian porn, bad acting and no blood or gore. Except for the actors slaughtering their lines. It's awful. I love a secret society movie, but this is awful. Just don't watch it. But the gloriousness of The Proposition has almost washed it from my mind. Set in rural Australia during the early 19th Century, the plot follows Captain Stanley, played by Ray Winstone ("The Departed"), as he tries to apprehend the eldest brother of the Burns gang, responsible for some heinous crimes. Even though the proposition occurs in the first scene, I don't want to give it all away. But Guy Pearce ("Factory Girl") stars as the middle brother and Capt. Stanley puts him a very awkward position. The landscape is gorgeous. The acting superb, especially Winstone. I loved it. Watch it now.
Diana Sturgill
[center][size=3][img]http://shopping.yahoo.com/video/images/muze/dvd/sm/95/242495.jpg[/img][b] Since Underworld Evoultion is coming out this week, the movie choice for the week is Vampire flicks. The Sisterhood is a vamp flick you can skip. [/b][b]The Sisterhood is about an evil glam, Goth, bisexual, vampire lead sorority named B.A.T.S. B.A.T.S (Beta Alpha Tao) is led by Devin, an immortal vampire. Christine, whom is a telekinetic premed student, is coerced by her paranormal psychology professor to help infiltrate and defeat the sorority. [/b] [b]I was so blahed by this film that I can't even explain it, so if this review is jumbled I apologize. Firstly the film seemed that it was slapped together on a lunch break. Nothing is explained and it doesn't even rank as a B horror flick. [/b][b] For instance, Christine has psychic and telekinetic abilities. Why? She can make her eyes glow for no reason and make candles light. She can also shoot some pretty nifty light beams out of her eyes too. Why? Well it's never explained how she became the super psychic/telekinetic woman. When the movie is about over a super idiotic twist is taken and Christine's professor explains who she really is. I could explain more useless stuff about the movie but I won't waste the time. [/b][b] All in all this movie is devoid of horror and offers nothing, unless you like movies that are devoid of plots, so convoluted that it's laughable, god awful acting and direction.[/b] [/size] [/center]
Kat G
The Sisterhood Quotes
There are no approved quotes yet for this movie.
Discussion Forum
Discuss The Sisterhood on our Movie forum!