Guns & Talks (Killerdeului suda)
(2001)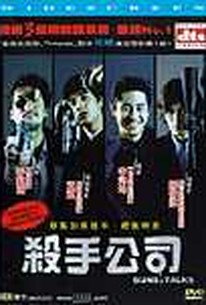 AUDIENCE SCORE
Critic Consensus: No consensus yet.
Guns & Talks (Killerdeului suda) Photos
Movie Info
South Korean filmmaker Jang Jin directs the action comedy Killeodeureui Suda, which is given the grammatically questionable English title Guns & Talks. The story involves a group of young attractive hitmen who live in a house together. Sang-yeon (Shin Hyun-Joon) is the leader, Jung-woo (Shin Ha-kyun) is the demolitions expert, Jae-young (Jung Jae-yeong) is the sniper, and Ha-yeon (Weon Bin) is the youngest who just wants to be one of the guys. They tell random one-line jokes and get into absurd situations in between all the assassinations involving attractive women. Jae-young is hired to kill a pregnant woman but he falls for her at the last second. A high school girl wants them to do a job for her, and Ha-yeon falls for her. Other assassinations include a TV anchorwoman (Ko Eun-mi) and a detective (Jeong Jin-Young). ~ Andrea LeVasseur, Rovi
Audience Reviews for Guns & Talks (Killerdeului suda)
½
mild action story, just a bit too bland and an ending that disappointed; acting though was decent...
Great blend of comedy and action.
Anthony Valletta
Super Reviewer
Unfocused as it switches wildly between action, comedy, romance, and melodrama, but that provides some its fun (and woes) as it is simply unpredictable in what direction it will take. Some scenes indeed are slow, such as the few melodramatic sequences that seem to serve in only diminishing the pace of the narrative, but some scenes are indeed funny and clever and lines of dialog have genuine wit. Performances sometimes seemed forced and over-the-top, but some of this is to provide humour (which works off and on). The narrative is a little messy as it's severely unfocused (much like the tone of the film itself) but again, this really adds a strong element of genre-blending that can, at times, make it alot of fun. Fun and entertaining but it has its flaws...
David Schwenker
Guns & Talks (Killerdeului suda) Quotes
There are no approved quotes yet for this movie.