Yogen (Premonition)
(2004)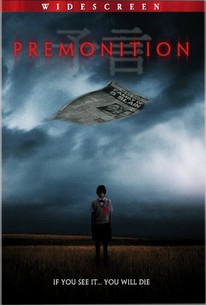 AUDIENCE SCORE
Critic Consensus: No consensus yet.
Movie Info
They are used to tell the past, but for a few unlucky individuals, they foretell the future. When Hideki picks up a newspaper he knows what he will see...death. Foretelling ill-omened fate of everything from slayings to train crashes, there is nothing Hideki can do to stop the event... or is there? When the paper predicts the demise of his daughter in a car crash, Hideki seeks out other like himself, searching for a way to change the future.
Critic Reviews for Yogen (Premonition)
All Critics (2) | Top Critics (1) | Fresh (2) | Rotten (0) | DVD (1)
Norio Tsuruta's J-horror film, the second in a planned trilogy, has its derivative elements, but overall is a surprisingly clever and well-crafted supernatural suspense tale.
June 9, 2005
A pair of excellent performances, a few fantastic little thrills, and a mind-twister of a finale that's as semi-confusing as it is strangely satisfying.
Audience Reviews for Yogen (Premonition)
Modest, and quite decent, horror affair, that steps away from the ringu/ju on crowd to tell it's own story of the supernatural. Good performances, and enough disturbing moments to keep you watching.
Tsubaki Sanjuro
Super Reviewer
½
Watchable supernatural J-Horror about a guy that recieves premonitions of impending fatal disasters but acting on them will mean his own death in return. Not the most original of premises with different variations of the theme appearing in films like the "Ringu" series and "The Final Destination" franchise. "Premonition" still manages to be a decently entertaining movie with some creepy moments which are helped along by the effectively eerie music. Not really scary or gory at all but there are a couple of mild "eww" moments. It's not quite up there with the best of Asian horror but it's a solid effort and was good enough to spawn a Hollywood remake.
Excruciatingly slow. I found myself hitting fast forward more than once just to speed things up! Picks up at the end, but could not highly recommend it.
Nicki Marie
Super Reviewer
Yogen (Premonition) Quotes
There are no approved quotes yet for this movie.