Zodiac Killer
(2004)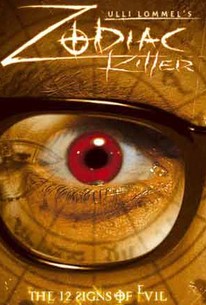 AUDIENCE SCORE
Critic Consensus: No consensus yet.
Movie Info
It's been said that truth is stranger than fiction, and when a menacing copycat killer begins emulating the murderous exploits of the Zodiac Killer, the citizens of Los Angeles quickly find out that the truth is much more terrifying than fiction as well. It's been years since the Zodiac Killer stalked the streets of L.A., and in the years since those horrific crimes, the citizens have grown complacent in taking their safety for granted. Now, a mysterious killer is stalking the streets and picking up where the Zodiac Killer left off. Driven by madness and obsession, the murderous psychopath will stop at nothing to see that the spirit of the Zodiac Killer lives on, and until he is caught no one is safe in the streets of Los Angeles.
Critic Reviews for Zodiac Killer
All Critics (2) | Fresh (0) | Rotten (2) | DVD (1)
This one could have skipped direct-to-video and gone direct-to-landfill.
The acting is bad enough to cause Oscar statues all around the world to spontaneously combust.
June 24, 2005
Audience Reviews for Zodiac Killer
It's such a shame to see this film go in this direction. With the impressive source material and - admittedly - brilliant take on it, they could have done so much and ended up with a fantastic film. Unfortunately, the production value is low, the acting is horrific and the script tends to go off target frequently which is both distracting and difficult to watch.
Sophie Burgess
Super Reviewer
Terrible movie, from the same director of Boogeyman, so I'm not surprised. This film looks loke it was made for a 100 bucks on a webcam. Well it ain't that bad but the film looks terrible. Mix that with horrible acting and a twist you see coming when you start watching the movie. In all this movie sucks and should be avoided at all costs.
Jesse Ortega
Super Reviewer
Zodiac Killer Quotes
There are no approved quotes yet for this movie.