Stealth
(2005)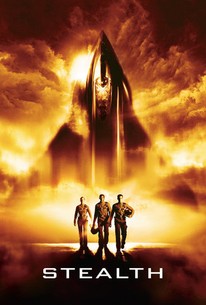 Movie Info
The latest innovation in high-tech defense hardware turns out to have a very dangerous mind of its own in this action thriller. Kara Wade (Jessica Biel), Henry Purcell (Jamie Foxx), and Ben Gannon (Josh Lucas) are three highly ranked U.S. Navy pilots who are part of a top-secret project involving the next generation of stealth fighter technology, the Talon Jet. Wade, Purcell, and Gannon are surprised when their commander, Captain George Cummings (Sam Shepard), introduces them to the new member of their team -- "Edi," an "extreme deep invader" developed as part of the "Unmanned Combat Aerial Vehicle" program. Utilizing the latest innovations in artificial intelligence, Edi is a computer-based flight controller that will take over the wingman's position in the team's formation, and while the pilots initially balk, Edi performs admirably in its first mission. However, after Edi is struck by lightning on a return trip, the computer's circuits and software begin to change in unexpected ways, and Edi not only begins to think for itself, it begins to violate direct orders. During a mission investigating the forces of a dangerous Chinese extremist, Edi starts an attack that could launch World War III, and it's up to Wade, Purcell, and Gannon to stop both Edi and its dangerous plan before it's too late. Stealth also stars Joe Morton and Richard Roxburgh.
News & Interviews for Stealth
Critic Reviews for Stealth
Audience Reviews for Stealth
This is movie is about 3 Navy pilots who are introduced to a computerised fighter technology. Good cast but plot and special effects were average.
Candy Rose
Super Reviewer
½
Nothing special with some adequate action sequences. Full review later.
Thomas Bowler
Super Reviewer
½
A computer controlled hi-tec fighter plane goes haywire and decides to take matters into its own hands and bomb Russia without orders. The Fast And The Furious director Rob Cohen's formula of frenetic action and laughably bad writing takes to the air in this CGI infested update of Top Gun. An aeronautical version of KITT from Knight Rider goes wrong, and then stops going wrong for no particular reason to gang up with some pretty people and find an excuse to to blow the crap out of unknown, faceless "terrorists" and North Koreans (for reasons that are far from obvious). The characters are the usual collection of gung ho cartoons, with Jamie Foxx seemingly standing in for Cuba Gooding Jr as a particularly painful black stereotype and the plot is a load of comic strip nonsense that's no more than an excuse for a series of shaky cammed firework displays. Having said all that, like TFATF it's mildly entertaining in an utterly brainless kind of way and if you're in a alcohol induced semi-vegetative state as I was, it passes the time. Just have some mildly lecherous thoughts about Biel/Lucas depending on taste and try not to think about it; the script writer obviously didn't.
Stealth Quotes
| | |
| --- | --- |
| Lt. Kara Wade: | Just tell me you love me you pussy!. |
| Lt. Kara Wade: | Just tell me you love me you pussy! |
Discussion Forum
Discuss Stealth on our Movie forum!