Beyond the Gates of Splendor
(2004)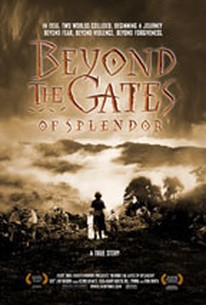 AUDIENCE SCORE
Critic Consensus: No consensus yet.
Beyond the Gates of Splendor Photos
Movie Info
Rating:
PG-13 (for some violent content and thematic elements)
Genre:
In Theaters:
On DVD:
Box Office:
$36,412.00
Runtime:
Studio:
Critic Reviews for Beyond the Gates of Splendor
All Critics (3) | Top Critics (1) | Fresh (3) | Rotten (0) | DVD (4)
Hanon doesn't sensationalize his potentially fantastic subject matter; instead, he lets the real words and pictures tell the story.
Houston Chronicle
Top Critic
Here's hoping this fine documentary will spark even a fraction of the interest the actual events generated 50 years ago.
We can't know for sure who ended up in what afterlife, but the legacy they left behind is certainly admirable.

Audience Reviews for Beyond the Gates of Splendor
THIS DOCUMENTARY IS ABOUT MISSIONARIES THAT ENTER A REMOTE AND VERY DANGEROUS AREA OF ECUADOR AND HOW FIVE OF THEM WERE KILLED. I HAVE A PROBLEM WITH THE WHOLE CONCEPT OF MISSIONARIES ENTERING HAPPY PEOPLE'S LIVES WITH THE INTENT TO CONVERT THEM TO CHRISTIANITY. IF THESE MISSIONARIES HAD JUST LEFT THEM ALONE TO LEAD THEIR HAPPY LIVES, THEY WOULDN'T HAVE GOTTEN KILLED TO BEGIN WITH!! WHEN WILL CHRISTIANS EVER LEARN JUST TO LEAVE NON CHRISTIANS ALONE? DID IT EVER OCCUR TO THESE SELFISH MISSIONARIES THAT THESE PEOPLE KILLED BECAUSE THEIR PEACEFUL LIFE EXISTENCE BEING INTRUDED ON? I FOUND IT VERY DIFFICULT TO SYMPATHIZE WITH THEIR DEATHS.
James Higgins
[img]http://images.rottentomatoes.com/images/movie/custom/81/10004681.jpg[/img] Let me tell you a bit about the makers of this film, how many people out there have a christian book store called Mardels? Or how about Hobby Lobby, they are owned by the same person, and he made this film. This is an outstanding film, a dcoumentary that one will not soon forget.[url="http://www.rottentomatoes.com/m/beyond_the_gates/gallery.php?page=5&size=lores&nopop=1"][img]http://images.rottentomatoes.com/images/movie/gallery/10004681/photo_04.jpg[/img][/url] This story is about a group of 5 missionaries, and their wives as they travel to South America, to do mission work. One thing I liked about this film was, that it didn't feel like a documentry, I felt like it was a normal film. The music is outstanding, and flows well in the movie. The scenry is outstanding, and the cinematography is awesome. I loved this film, I'm not sure if it's showing in many areas, but if it is in yours you should take a look. I was truely inspired by the film to really seek out what my calling is in life, to get out of my own comfort zone and to go where ever that might be. Ok, I'm rambling, but if you can go see this film!!
Brandon A.
Beyond the Gates of Splendor Quotes
There are no approved quotes yet for this movie.
Discussion Forum
Discuss Beyond the Gates of Splendor on our Movie forum!