Slipstream
(2005)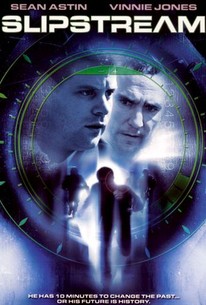 AUDIENCE SCORE
Critic Consensus: No consensus yet.
Movie Info
An ordinary scientist finds himself caught in a vicious cycle after harnessing the power of time travel in this sci-fi tale starring Lord of the Rings' Sean Astin and Snatch heavy Vinnie Jones. Mild mannered scientist Stuart Conway (Astin) has just made the discovery of the century. Deep within the confines of a secret military base, Conway has created the Slipstream device - a miniature time travel machine that allows him the ability to travel ten-minutes into the past at the push of a button. When Conway decides to use his new discovery to make a few illicit withdrawals from his local bank, the arrival of a violent group of bank robbers throws a serious wrench in his plan.
News & Interviews for Slipstream
Critic Reviews for Slipstream
All Critics (3) | Fresh (0) | Rotten (3) | DVD (1)
Omnipresent camera-spinnings can't deliver enough slickness to hide Slipstream's half-baked concept and frequently horrific dialogue.


Audience Reviews for Slipstream
½
This movie reminds me of "In Time" and "Immortals", but in a bad way. The first also had a mind-blowingly awesome and cool premise/devices, but didn't explore that concept's full potential. The second just had an excessive amount of slow-motion action sequences. That being said, I (who mostly watches current Hollywood flicks) found it refreshing to see no actors or actresses I had seen before, which sorta gave the movie's characters more depth as I didn't associate any actor/actress with the kind of role they usually have. Beyond that, though the movie's storytelling could've been smoother, the main character's gaze more focused, and the ending a bit less predictable and therefore convenient. -SPOILER ALERT- Regarding the time travel itself, the suspension of belief required was a little too high. Moving in time AND space? No one around you reacting to your inexplicable clothes change? Physical contact with the device needed but only to a point? The list goes on.
Mauricio Rivera
Not only does this DVD feature NO CLOSED CAPTIONS or English subtitles, it doesn't feature the ability to hold an attention span. If it's not the 45-second, needless gunfight spin, it's the lead terrorist 'becoming bored' and encouraging a newly-taken busload of hostages to engage in a sing-along. I haven't turned off a DVD in disgust in years, but this finally beats out "Alone in the Dark" for THE worst DVD I sadly own. What happened, Samwise?
Mike Wilkerson
½
Not too bad. After a basic review of how time works from our viewpoint, we get right into the action, seeing Stuart use his time-travel to ask a girl out, and then things really kick off with a bank robbery interruption. Althoug the device is never fully used (they mention traveling into the future but it's not shown at all), it's still pretty intriguing. Vinnie Jones is underused, as though the director just told him to scream and growl for all of his lines, so that part wasn't cool. Likewise, Sean would be convincing as Stuart, but every now and then he would just act like an idiot and then be back to normal, so not too sure about that. No opinion on generic FBI agent girl, but overall the movie was fun.
Brent Dreher
Slipstream Quotes
There are no approved quotes yet for this movie.
Discussion Forum
Discuss Slipstream on our Movie forum!