Kids in America
(2005)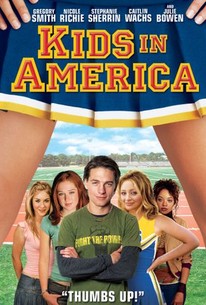 Movie Info
Teenagers stand up for their rights and take on the woman who wants to scuttle their freedoms in this comedy drama inspired by a true story. Principal Weller (Julie Bowen) is the ambitious but hard-headed leader of Booker High School. Weller plans to run for superintendent of her school district, and believes if she wants to win she needs to project the image of a no-nonsense leader, and with that in mind she begins cracking down on what she sees as discipline problems at Booker High. However, in many cases what she sees as kids out of control are seen by others as kids expressing themselves, including a girl who wants to distribute condoms to recognize National Safe Sex Day, and two boys who are caught kissing in the hallway between classes. Mr. Drucker (Malik Yoba) is a teacher at Booker who tries to champion the students' rights of free expression, but his conflicts with Principal Weller end up costing him his job when he's fired for questioning her authority. Holden Donovan (Gregory Smith) is a student at Booker who is alarmed that the students have lost one of their few allies, and decides to do something about it -- along with his classmates, he sets out to establish and defend the right of free expression for high-school students, and launches a campaign against Weller's bid to become superintendent. Kids in America also stars Stephanie Sherrin, Nicole Richie, Adam Arkin, George Wendt, and Elizabeth Perkins. ~ Mark Deming, Rovi
Critic Reviews for Kids in America
Audience Reviews for Kids in America
½
This movie takes a light and funny approach to a real concern in some high schools - principals and teachers that run their schools with a political agenda. The cast was great and the story was definitely good to watch once.
Heather Metzger
½
It had a lot of potential to be way better than it was, although I still think it's a pretty good movie to watch. It has funny moments, but needed to develop the plot more.
Michael Verini
½
As far as I'm concerned, Kids In America is very underrated. What you have here with this film is a comedy that exposes an important subject. People hate on this film because of the fact that Nicole Ritchie plays in this film. Well, her role I thought was so minimal that it really didn't bring anything memorable to the film. Her role wasn't an essential part of the film. I didn't care to see her on screen, and she didn't annoy me in the process. What I love about Kids In America is that it's very different that your usual Teen comedy. Where the usual teen comedy insults teens for what they usually "are", Kids In America takes a different, refreshing approach and creates something funny, charming but above all, smart. The casting choices are well done, and every actor is perfect for the part they played. The film is very entertaining, funny and well crafted. This is an underrated film that shouldn't be passed up. Most Teen comedies fail to capture what teen life really is about, but Kids In America is the only film of it's kind that is smart and exposes issues that people don't even care about. Kids In America is a better film than what people might think. A well acted film with laughs and drama about important teen issues. Sure the film could have been improved upon, but for what it does, it captures the essence of what growing up really is, and that is one of the reasons that this film works so well.
Kids in America Quotes
There are no approved quotes yet for this movie.
Discussion Forum
Discuss Kids in America on our Movie forum!