Land of Plenty
(2004)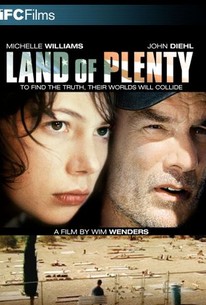 Movie Info
After years of living in Israel, a young woman returns to the United States to search for her only living relative, the brother of her deceased mother. Penniless, armed only with her winning optimism and the fearlessness born of youth, Lana ends up living in a mission in downtown Los Angeles. There she sets out to find her reclusive uncle, an obsessive loner fixated on weeding out people he thinks are dangerous to the state. When the two finally meet, their lives overlap and intersect, taking us in strange and surprising directions.
Rating:
NR
Genre:
Directed By:
Written By:
In Theaters:
On DVD:
Runtime:
Studio:
IFC Films
News & Interviews for Land of Plenty
Critic Reviews for Land of Plenty
Audience Reviews for Land of Plenty
½
From purely cinematic perspective, this movie is a delight, featuring captivating performances and beautiful cinematography. When it comes to the story though... I appreciated a foreigner's view of post-9/11 America, but the portrayal was way oversimplified and one-dimensional. It shows even in the character development. As much as I liked Michelle Williams and her performance, she was given little to work with, while John Diehl's kept chewing scenery.
Gabriel Knight
½
Upon her arrival back in the United States, Lana(Michelle Williams) is met at the airport by Henry(Wendell Pierce), the pastor at the homeless mission she is volunteering to work at. They have their work cut out for them as the vast seas of homeless in Los Angeles almost make her nostalgic for the time she spent on the West Bank. Still, she has a personal mission in delivering an envelope to her uncle Paul(John Diehl) whose mission is to make the United States safe for right wing radio talk shows while stalking Hassan(Shaun Toub) on his collections of Borax. I appreciate the fact that "Land of Plenty" takes notice of how large a problem hunger is in the United States but not so much that I enjoyed being lectured about it in totally ponderous fashion instead of coming up with a solid story to tell. Nor could the movie make any valid suggestions or even any kind of connection between guns and butter in wartime, as most of the post-9/11 paranoia is now thankfully dated. Wendell Pierce and Michelle Williams can only do so much with so little, as the movie otherwise lets John Diehl, an otherwise fine character actor, free rein to go over the top in playing a stereotypical character, thereby sucking all of the oxygen out of the room.
½
The contemporary America after 9/11 depicted by Wim Wenders. I basically love this film and understand his points as one of those who are somehow obsessed (have love and hate) with the image of "U.S.A." as foreigners. What amazes me mostly is that Wenders keeps the same kind of attitude and energy on describing and thinking about America as much as he did in "Paris, Texas" back in 80s. This film is (meant to be) much more political, and characters are little bit too symbolized, but Wenders's story and characters are both very much flesh and blood. Even though he is a very symbolical character, and I guess he look too typical as a Vietnam Veteran or a patriot activist, he seems to be existing in the reality. I think the film is little weak in terms of the drama of process how two people who have completely different background and ways of thinking start to kinda understand each other (the relationship between the uncle Paul and a girl Lana), Wenders's technique to make a "meaningful" fiction out of what really goes on in the real world and to let you start to think about the issue that the film is dealing with is now very sharp and professional.
Naoya Kugimiya
Land of Plenty Quotes
There are no approved quotes yet for this movie.
Discussion Forum
Discuss Land of Plenty on our Movie forum!