Yesterday
(2004)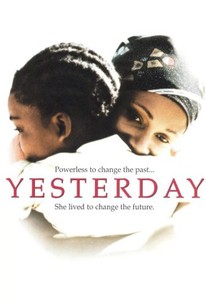 AUDIENCE SCORE
Critic Consensus: No consensus yet.
Movie Info
A impoverished young mother with few creature comforts but an unbreakable spirit determines to see that her growing daughter receives an education after suffering a crippling setback in this affecting drama from director Darrell James Roodt. Yesterday's family is poor, and despite the daily toil suffered by her husband in the mines of Johannesburg she still manages to maintain a bright outlook on life thanks to her energetic seven-year-old daughter, Beauty. Upon falling ill, Yesterday is diagnosed with AIDS and her already harsh life appears to take a turn for the worse. Though Yesterday herself never received an education, the revelation of her declining condition inspires the young mother to cling to life so that she may see her growing daughter attend her first day of classes and die knowing that there is hope for a better life.
News & Interviews for Yesterday
Critic Reviews for Yesterday
All Critics (2) | Fresh (2) | Rotten (0) | DVD (2)
Yesterday es un drama sobrio y emotivo sobre los sacrificios de una mujer en medio de la pobreza, la adversidad y la discriminación.
A sensitive, intelligent and economical script gathers dramatic momentum and builds tension.
Audience Reviews for Yesterday
½
Set in the Zulu culture of Sub-Saharan South Africa, this film takes an unprecedented look at a mother-daughter relationship, the political and medical problems of the region, and the heartwarming compassion of a lone friend in a den of wolves. The film follows a mother named Yesterday, named so because her father liked living in the past. She gets sick and continually tries to make it to the overrun clinic to get checked out, every week, but without fail she always misses out thanks to a two hour trek down the dusty roads while towing her small daughter. Yesterday is a thoughtful, beautiful woman who seems to have compassion for everyone she meets and is always smiling though her situation seems dire. She makes a friend in the village who becomes the local teacher, and eventually they become friends. Yesterday's personality is what is queer and yet enticing about her. She is always so nice to every person she meets, and yet at the first sniff of disease or disorder they all become superstitious and shun her. The first part of the film deals with her troublesome life, the sadness she exhibits thanks to her small child, and telling her husband, who works in the mines of Johannesburg, of their fate. She cares for her husband, and though sickly and unable to take the cocktail of drugs that would surely save her here in the first world, she deteriorates and yet perseveres for her daughter's sake. It really is a labor of love that is shown onscreen, a story about a woman who has absolutely nothing and yet everything to lose. It does dip into melodrama, especially in the second half of the film, and certainly near the ending where she is making her amends, saying her goodbyes and making sure her daughter starts going to school. The relationship between her and her husband is especially interesting, bonding them in illness but separated by distance, time, and abuse. It's a very impactful and thoughtful film that also deals with the crisis in Africa and shows the true living conditions of an entire country. This film received accolades from foreign awards, and though it does range in its sentimentality, it does focus itself on what is important and imperatively true.
Spencer S.
Super Reviewer
Thematically charged with great subject matter, but a bit flat.
Richard Franzen
Super Reviewer
Yesterday was such a good movie because of it simplicity and beauty.It was about Yesterday a South African woman who was infected by her husband with the HIV virus and her struggle to survive. The movie showed the relationship between Yesterday,her daughter Beauty and the teacher. The HIV virus was portrayed with realism and also Yesterday's strength and dignity to face her illness. She took care of her husband till his death, dealing with her illness and gossips and fears of other villagers. It was heartbreaking and it made me feel her pain and sorrow. Acting, directing, all was excellent.
Daisy Maduro
Super Reviewer
Yesterday Quotes
There are no approved quotes yet for this movie.