Creep
(2005)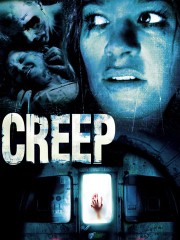 Creep Trailers & Photos
Movie Info
When a London modeling agency booker dozes off while waiting for the midnight subway train, the subterranean terror that awaits her in the underground tunnels will send her screaming for her life through a dark labyrinth in this horror entry directed by Christopher Smith and starring Run Lola Run's Franka Potente. Awakening to discover that the midnight train has passed and she is locked in the station, Kate (Potente) reluctantly steps onto a mysterious empty train for a ride she will not soon forget. As the train grinds to a stop in the pitch black tunnels of the London Underground, Kate realizes that she is not alone in the darkness and if she has any hope of surviving until dawn she'll have to fight for her life against an unimaginable horror too terrifying for the light of day.
more
Cast
News & Interviews for Creep
Critic Reviews for Creep
Audience Reviews for Creep
Bruce Bruce
Super Reviewer
½
[img]http://images.rottentomatoes.com/images/user/icons/icon13.gif[/img]

Creep is one of the best uninventive horror films released in recent years however it's easy to admire what little ambitions it has. As it was released as Christopher Smith's directorial debut you can forgive most of the flaws but at the heart of it's unremarkability is it's lack of true vision and dissapointing execution despite it's promising concept. Our "heroine" in Creep is definetely one of the most idiotic and dislikable characters i've seen in a film in a long time and most of the performances are too overly dramaticised that it unfolds as awkwardly ludicrous without a strongly maintained atmosphere. Apart from Sean Harris who is great as the unmemorable cannibal villian. It works at best as a Grindhouse flick for gorehounds but never truly achieves anything more than that apart from some impressively stylish cinematography and above average set design. The last half of the film is better than the first but it can never quite decide if it's grindhouse or psycho thriller. Although there's an enormous amount of incredibly annoying stuff in Creep Christopher Smith has come a long way since and his brilliant directing skills had to be demonstrated in some way. I still think that Triangle is his mind boggling masterpiece but in the end, every film maker has to start somewhere. Even if their first project isn't that great it gives them a chance to make it evident that they can make films. If nothing else, Creep certainly achieves that.
Directors Cat
Super Reviewer
"Your journey terminates here."

Trapped in a London subway station, a woman who's being pursued by a potential attacker heads into the unknown labyrinth of tunnels beneath the city's streets.

REVIEW
There's something about the Brits take on horror. Having been weened on the likes of Hammer, Dr. Who and the original Tales from the Crypt, Creep was made for me. An eerie exploration of the underworld and things you find in the dark, well after everyone else has gone to bed is the theme at the heart of this movie. The first two reels shy away from showing you who or what is behind the gruesome deaths in London's famous Tubes. This works well. Lead bird Kate is the perfect heroine, in that she's not a screaming mimi. She has her head on straight even when a bunch of other people become involved in the story, it is apparent, Kate knows how to survive. Unlike so many recent American Horror films this film let's its characters be themselves and not a convenience to the script, and therefore they are intelligent and not just fodder for the killer. Now, the killer, what or who it is, is never really answered. Bits and pieces are given to us and I suppose if I watched it again I might have gleaned more. None-the-less, this fact does not take away from this tale of bloody survival. All in all, I really liked the atmosphere, the music and overall claustrophobic feel of the modern caves of the underground in London. Watch it, but not alone.
Lorenzo von Matterhorn
Super Reviewer
Discussion Forum
Discuss Creep on our Movie forum!
News & Features