Creep
(2005)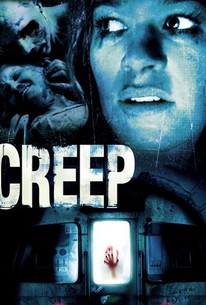 Movie Info
When a London modeling agency booker dozes off while waiting for the midnight subway train, the subterranean terror that awaits her in the underground tunnels will send her screaming for her life through a dark labyrinth in this horror entry directed by Christopher Smith and starring Run Lola Run's Franka Potente. Awakening to discover that the midnight train has passed and she is locked in the station, Kate (Potente) reluctantly steps onto a mysterious empty train for a ride she will not soon forget. As the train grinds to a stop in the pitch black tunnels of the London Underground, Kate realizes that she is not alone in the darkness and if she has any hope of surviving until dawn she'll have to fight for her life against an unimaginable horror too terrifying for the light of day.
People Who Like this movie also like
Audience Reviews for Creep
A movie so stupid in every way possible that it is really hard to take it any seriously, with a nonsensical plot, characters who behave like idiots all the time (to the point that you will want to punch the director in the face) and a ridiculous villain without any discernible motivation.
Carlos Magalhães
Super Reviewer
Creep is exactly what you would expect having seen the poster. It is scary in all the right places, fast paced, well edited and has a great, eerie soundtrack . Those who don't like horror films needn't waste their time but afficiondos will appreciate as a fine example of the art. It comes with the expected STUPID moments where you wish the characters would do something sensible but that, in many ways, is part of the fun isn't it!? The lead character is pretty unsympathetic which doesn't help but the horrible and unflattering yellow dress she is wearing is partly to blame as well. The tube stations look fantastic - empty and creepy a la An American Werewolf in London and the whole design is very effective. You know exactly what you are getting with this film - an efficient modern horror movie with jumps and suspense in all the right places. As with 28 Days Later it's setting alone makes it a must see for anyone who lives in London or uses the tube regularly. Overall, four stars. It won't change your life and it probably won't make you scared to get the tube but it will raise your pulse, keep you entertained and might make you think twice about getting the last train home. The director and star gave a q and a session after the screening and they seemed genuinely nice and were clearly pleased with the film, as they should be. Just watch out for the rats which are only pretending to die.....apparently. 4 Stars 4-17-13
Bruce Bruce
Super Reviewer
½
[img]http://images.rottentomatoes.com/images/user/icons/icon13.gif[/img] Creep is one of the best uninventive horror films released in recent years however it's easy to admire what little ambitions it has. As it was released as Christopher Smith's directorial debut you can forgive most of the flaws but at the heart of it's unremarkability is it's lack of true vision and dissapointing execution despite it's promising concept. Our "heroine" in Creep is definetely one of the most idiotic and dislikable characters i've seen in a film in a long time and most of the performances are too overly dramaticised that it unfolds as awkwardly ludicrous without a strongly maintained atmosphere. Apart from Sean Harris who is great as the unmemorable cannibal villian. It works at best as a Grindhouse flick for gorehounds but never truly achieves anything more than that apart from some impressively stylish cinematography and above average set design. The last half of the film is better than the first but it can never quite decide if it's grindhouse or psycho thriller. Although there's an enormous amount of incredibly annoying stuff in Creep Christopher Smith has come a long way since and his brilliant directing skills had to be demonstrated in some way. I still think that Triangle is his mind boggling masterpiece but in the end, every film maker has to start somewhere. Even if their first project isn't that great it gives them a chance to make it evident that they can make films. If nothing else, Creep certainly achieves that.
Directors Cat
Super Reviewer
Creep Quotes
There are no approved quotes yet for this movie.