When the Last Sword Is Drawn (Mibu gishi den)
(2003)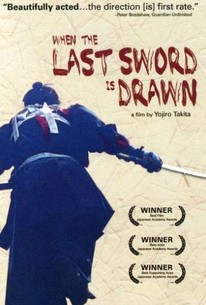 AUDIENCE SCORE
Critic Consensus: No consensus yet.
When the Last Sword Is Drawn (Mibu gishi den) Photos
Movie Info
Kanichiro Yoshimura, a samurai and a family man, can no longer feed his wife and children due to the low wages paid by his small town clan. Sadly, he packs up and leaves his loved ones for the big city where he hopes to make a better living. He joins the large and renowned samurai faction, the Shinsen-gumi, where he leads a difficult, but enriching, life during one of the most tumultuous times in Japanese history.
Critic Reviews for When the Last Sword Is Drawn (Mibu gishi den)
There are no critic reviews yet for When the Last Sword Is Drawn (Mibu gishi den). Keep checking Rotten Tomatoes for updates!
Audience Reviews for When the Last Sword Is Drawn (Mibu gishi den)
½
A chance encounter between an old man and a young doctor leads to them sharing reminiscences of a samurai they had both encountered earlier in life. Very much like its contemporary The Twilight Samurai, rather than concentrating on the usual samurai movie cliches of duty and honour, When The Last Sword Is Drawn paints a much broader picture of the life of the samurai in the last days of their era. The story centres around the relationship between misunderstood rural fencing instructor Yoshimura and an arrogant glory hound Saito and how the latter slowly comes to understand and respect his comrade, a man he initially hated for his humble, parochial ways and apparently mercenary motives. As the story of Yoshimura progresses through a series of flashbacks, we learn the reasons for his alleged "treachery" in deserting his clan and why he has such an all-consuming need for cold, hard cash rather than glory and honour. These characters are far more three dimensional than the usual "code of the samurai" obsessed stereotypes that usually populate this type of film and as such make for a more engaging character dynamic. Not that there is an absence of katana-flashing blood letting, as the film is still punctuated with enough action to sate the appetite, but the added attention to dialogue and characterisation makes for a fine context to frame it within. When dealing with the subject of Yoshimura's family, the script can get a little melodramatic and the finale falls victim to overt sentimentality but as whole When The Last Sword Is Drawn is a satisfying mix of swordplay and storytelling that will appeal very much to fans of The Twilight Samurai.
I enjoy most asian movies with a samurai theme, this one follows the life of a samurai,. But I must say it was very hard to follow, comes with english subtitles. 2hrs 18 minutes gave me plenty of time to sleep. 2 Stars 2-22-13
Bruce Bruce
Super Reviewer
An excellent samurai movie about a man who will do anything to make sure his family survives. All the actors did a great job and I felt the story flowed well. The look of the movie was great. It is pretty long but it played so well that the run time didn't invade my thoughts at all while watching the flick.
Jason Spencer
Super Reviewer
When the Last Sword Is Drawn (Mibu gishi den) Quotes
There are no approved quotes yet for this movie.